Working with Returned Data
Viewing Data in Table Format
When you view data in the Table format, the Result grid is filled with the returned data. Duration of query, number of affected and displayed records and messages returned by the data source are displayed below the grid.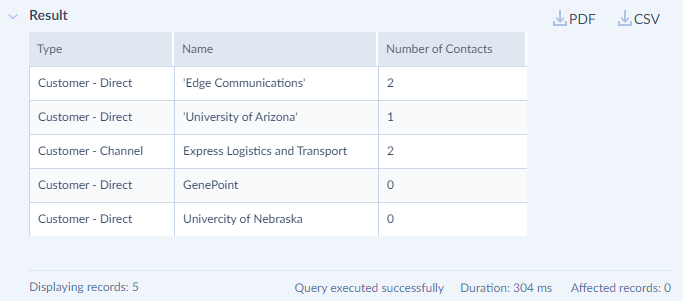 Skyvia Query loads data in portions of 20 rows. If a query returns more than 20 rows, you can scroll down the grid and load the next twenty rows by clicking the load more link or pressing F8. You can repeat clicking this link until you load as many rows as you want.
Exporting Data
To export the query result, click the buttons with the file formats to export data to in the Result pane header. These buttons are located in the right part of the Result header.

Skyvia also offers another way to export data — to export them as a part of the Data Integration product. For more details, read Export.