Sharing Account Between Several Users
Skyvia user can invite other users to his/her account. This allow users from one company to have centralized control over payments, billing, and subscriptions, but at the same time to have different connections, integration packages, backups etc. for each user.
When several users share the same account, it means that they share the same pricing plan subscriptions and resource limitations. For example, if two users share an account with a subscription for a free Query plan, which has a limit of five queries per day, after they execute five queries in total (for example, 2 queries for one user and 3 for another user or 5 queries for one user and 0 for another), both users won't be able to execute queries until the next day.
One user cannot have access to packages, connections, and stored queries of another user with whom he/she shares the account. This allows limiting an access of different users to the company data.
Inviting Users to Account
You can invite users to your account on your Account page, and it doesn't matter whether a user is already registered in Skyvia or not. For this, enter the email of the user you invite to the Add new user box and click the Invite button.
Skyvia sends an email with an invitation to the user's email address. It looks like below. To accept an invitation, click the offered link.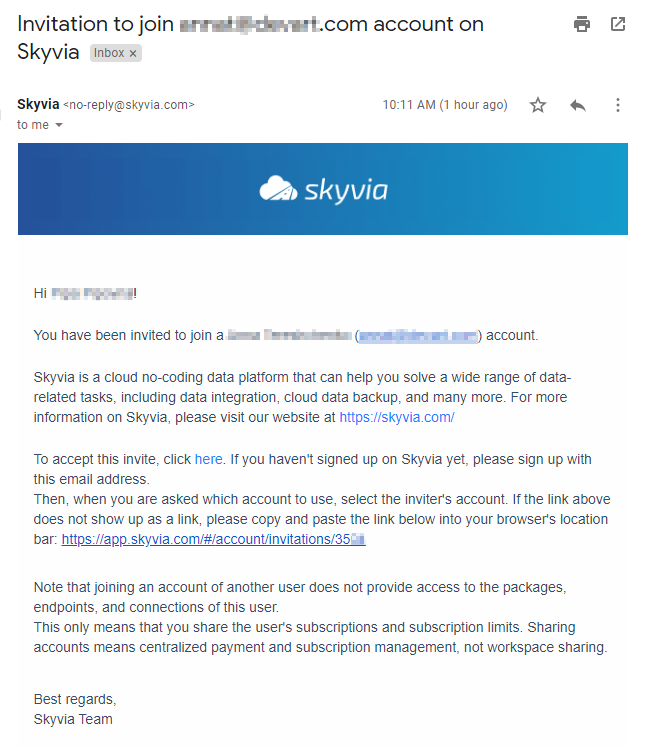 You will be transferred to the Skyvia Sign In window in case you are logged out of the platform. Enter your Skyvia email and password to log in or sign up to the platform if you haven't registered the Skyvia account yet.
After that, on the opened Skyvia page, click the Join Account button to join the account of the user you have been invited by.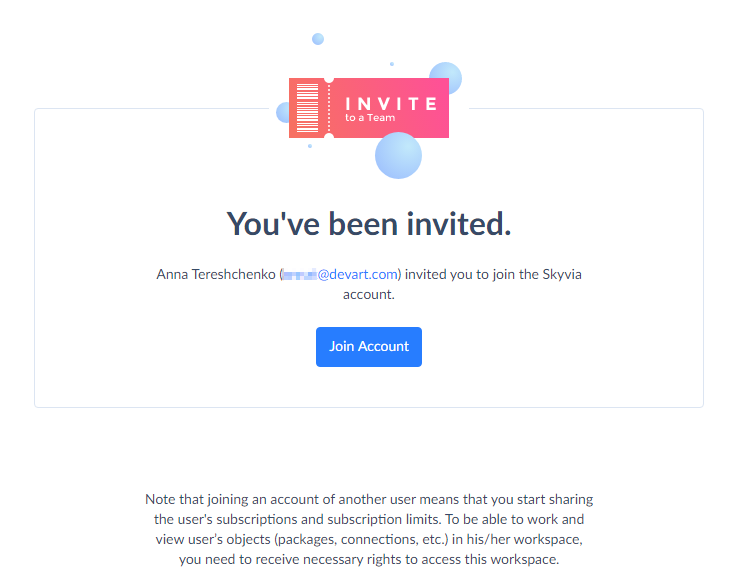 Deleting Users from Account
To delete invited users from your account, click Account, switch to the Users tab, click the

icon next to users you want to delete. The corresponding users will be removed from your account. Next time these users sign in, they sign in to their own accounts.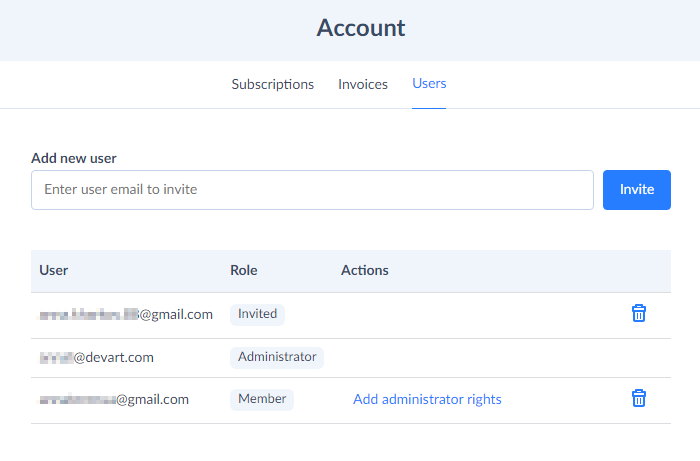 User Statuses
The users listed in your account may have the following status:
Invited — this status shows that you have invited a user to your account, but this user haven't yet signed in to Skyvia and received the invitation.
Member — this status shows that the user has accepted the invitation and now uses your account.
Administrator — this status shows that the user has administrative privileges in this account (see below).
Administrative Privileges
There can be two kinds of users in the account — with or without administrative privileges. Users with administrative privileges can manage the account. They can:
edit subscriptions for products and change their auto-renewal status;
enable the Autoclean mode for backups (except in a free plan);
change payment information;
invite other users;
delete users from the account;
give other users administrative privileges and revoke them.
Initially, the user who invites other users to his/her account is the only one with administrative privileges. This user can give administrative privileges to other invited users.
You can grant administrative privileges to another invited user on your Account page. For this, on the Users tab, click Add administrator rights next to the user you want to grant rights to. When the user is granted administration rights, the Administrator role will be displayed near his/her email. To revoke rights, click Remove administrator rights.