Connect Overview
Skyvia Connect is an OData-server-as-a-service product that allows you to quickly and easily expose your data from various sources via OData REST API and make it available in JSON or XML format over the web. It allows you to easily create OData endpoints in convenient GUI, configure them visually, and get a ready-to-use OData endpoint URL, which you can connect to in OData consumer applications and services immediately. You don't need to care about OData server hosting, deployment, and administration at all.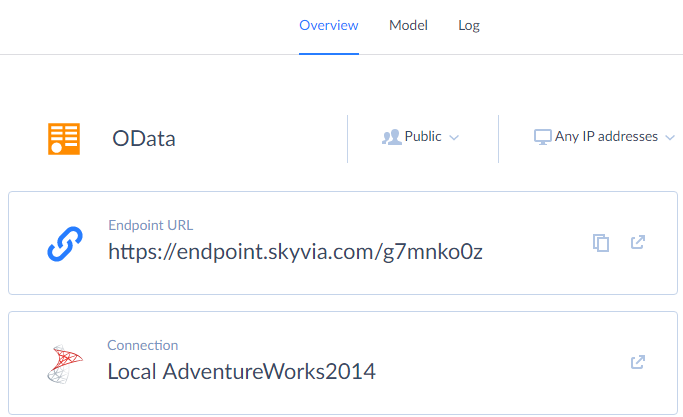 OData Protocol
OData is a widely accepted open standard protocol for data access over the Internet. It provides queryable and interoperable RESTful APIs for working with data. It allows bi-directional data access with full CRUD support over the HTTP protocol and it provides a query language via specially constructed URLs and full metadata information.
OData standard is developed by OASIS. You can find more information about the OData standard and more useful OData tools and resources on www.odata.org.
Skyvia Connect allows creating endpoints, compatible with OData v1 - v3, or with OData v4.
OData Server
OData server is a software that provides access to data via OData protocol. It accepts OData requests and returns or modifies data accordingly to these requests.
If the data of this server must be accessible from the Internet, the server must be hosted somewhere, have a static IP, a domain registered, and a certificate for secure data access.
Being OData-server-as-a-service, Skyvia solves all these challenges without any need of user interaction. All you need is to select what data to publish via an OData endpoint, and Skyvia will take the rest. It provides you with a ready-to use OData endpoint link. The service is hosted on the endpoint.skyvia.com subdomain and uses this subdomain certificate. All the deployment and administration tasks are performed by Skyvia engineers, who has taken care about everything needed.
OData Endpoints
In Skyvia Connect you create OData endpoints by selecting objects to expose from a data source connection, and selecting fields to expose data from. Data, exposed by OData endpoint can be described by entity data model. The main concepts of OData Entity Data Model are entities, entity types, and entity sets, relations, actions, and functions.
Entities are instances of entity types. Entity types are named structured types, having a key (a property or several properties that uniquely identify entities). Entity types have named properties and navigation properties, which represent relationships between entities. Entity sets are named collections of entities.
Actions and functions are currently not supported in Skyvia.
Creating OData Endpoints
Skyvia offers a convenient GUI editor to create and edit OData endpoints. After you select a connection, you can simply drag data source tables from the connection object list (on the left) to the diagram (on the right).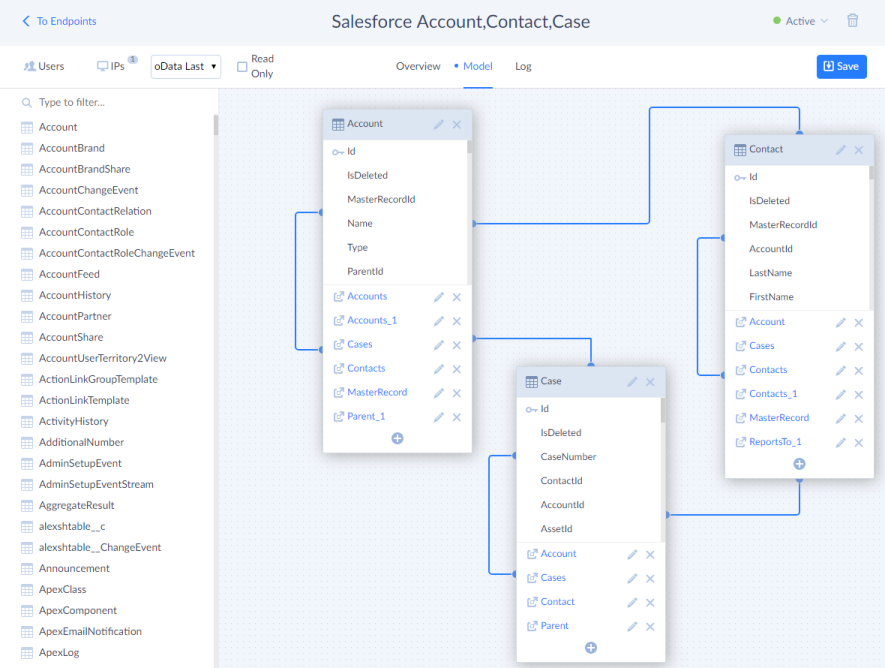 When you drag a table to the diagram, Skyvia automatically creates the corresponding entity set and entity type. Skyvia also automatically creates relationships (associations) with other entity types on the diagram, corresponding to tables, with which there are relationships in the data source. If a table references itself in the data source, Skyvia creates a self-referencing association on the diagram. By default, Skyvia exposes all the table fields via the OData protocol.
After dragging a table from the data source to the diagram, you can tweak the resulting entities in more details - change their names and names of the fields, edit entity key, hide some of the table fields so that they won't be exposed via the OData protocol. You also can configure associations between entities. You may edit or delete automatically generated associations or create your own, custom ones.
You can find more information on creating an OData endpoint in the How to Configure OData Endpoint topic.
Endpoint Security
Skyvia Connect allows you to create additional security layer over your data source. You can create user accounts with passwords for your OData endpoints and pass these credentials to users you want to share your data with. You don't need to share your original data source credentials with them. You also can limit access to your endpoints by specifying IP address ranges for which access is allowed. Together with exposing only the necessary entities, this makes data sharing via Skyvia Connect convenient and secure. See more details about user account and IP configuration in the Security Settings topic.
If you don't specify any users, the endpoint data will be publicly available to anyone without authentication, and if you don't specify any IP address ranges, the endpoint data will be available from any IP by default.
Logging
Skyvia provides advanced monitoring functionality for created endpoints. For each endpoint you can view a detailed log with all the requests to an endpoint with their URLs, user names, executed SQL statements, error messages (if any), etc. See more details about logging in the Monitoring Endpoint Activity topic.