September 2019
New Feature in Skyvia New: Dependencies Between Objects
We would like to announce that we have added DEPENDENCIES feature on the OBJECTS page in Skyvia New. This feature will help you to track dependencies between objects. You can easily find out which connections and agents are important for you and have relevant dependent objects, and which are out-of-use and can be deleted from your list not affecting the work of all your integrations.
To try our new feature, go to the OBJECTS page. Hover over the specific Connection or Agent to see quick action buttons. By clicking the View Dependencies button, you apply filter settings to dependent objects.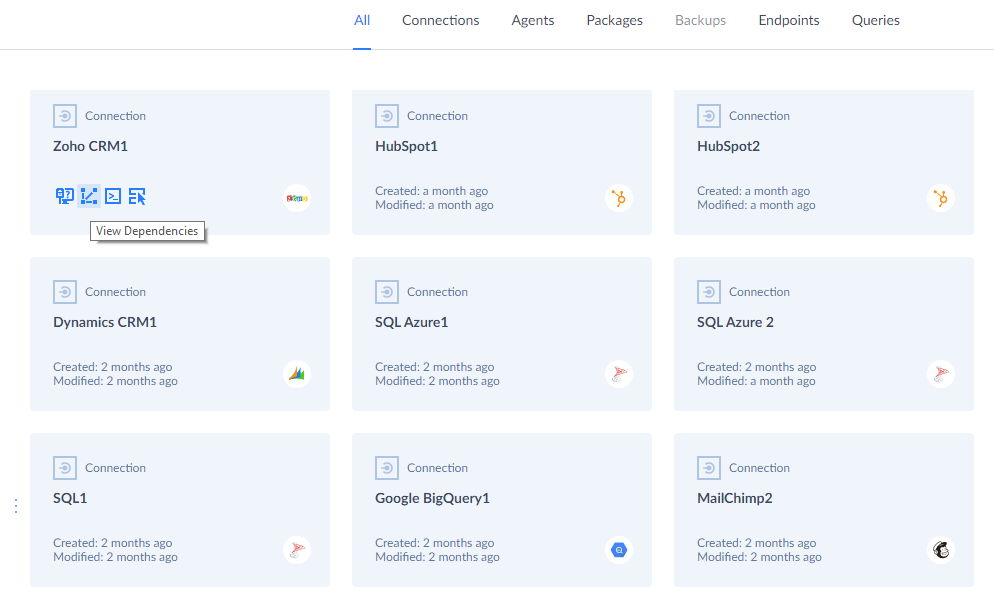 When you apply filter settings, you see the Show dependencies for box in the toolbar. Dependent objects are listed below. The more objects you have created with a certain connection, the larger list you will have.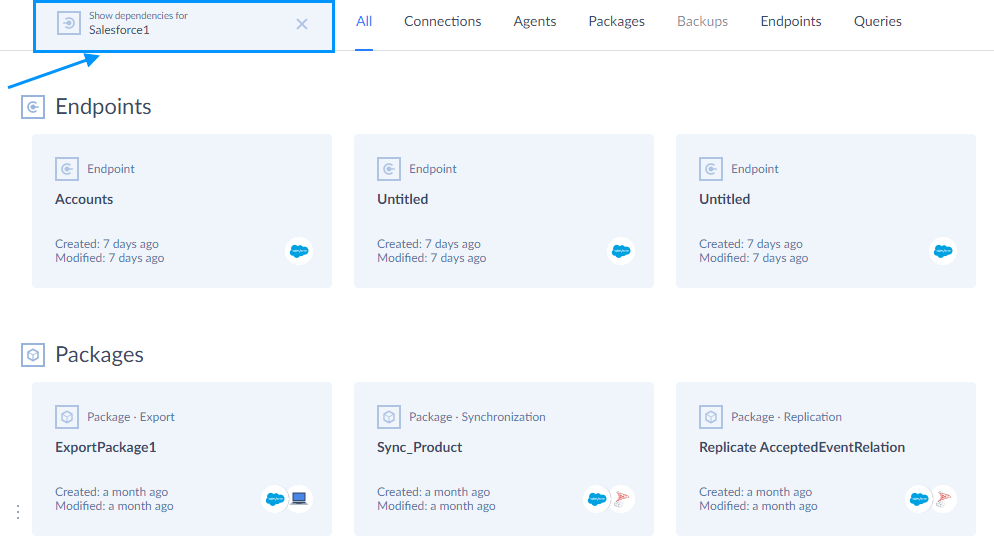 We also would like to draw your attention to different levels of dependencies between objects in Skyvia New. Clients can notice that, for example, connections in the system may depend on agents, meantime packages, endpoints, backups and queries depend on connections. You can easily check it yourself on the website by opening a page with the agent or connection you use frequently and viewing its dependent objects.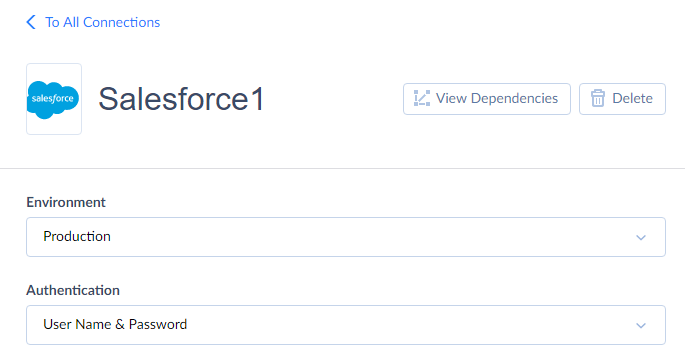 On the Connection page, click the View Dependencies button to open the list. Select the object (for example, import package) you want to switch to. You can edit or delete the package if necessary. However, you cannot delete the connection or agent from your list without removing dependent objects first.
If you want to manage related objects or organize objects into folders, click the View on Objects Page button at the bottom of the Dependencies list and switch to the OBJECTS page with different view options.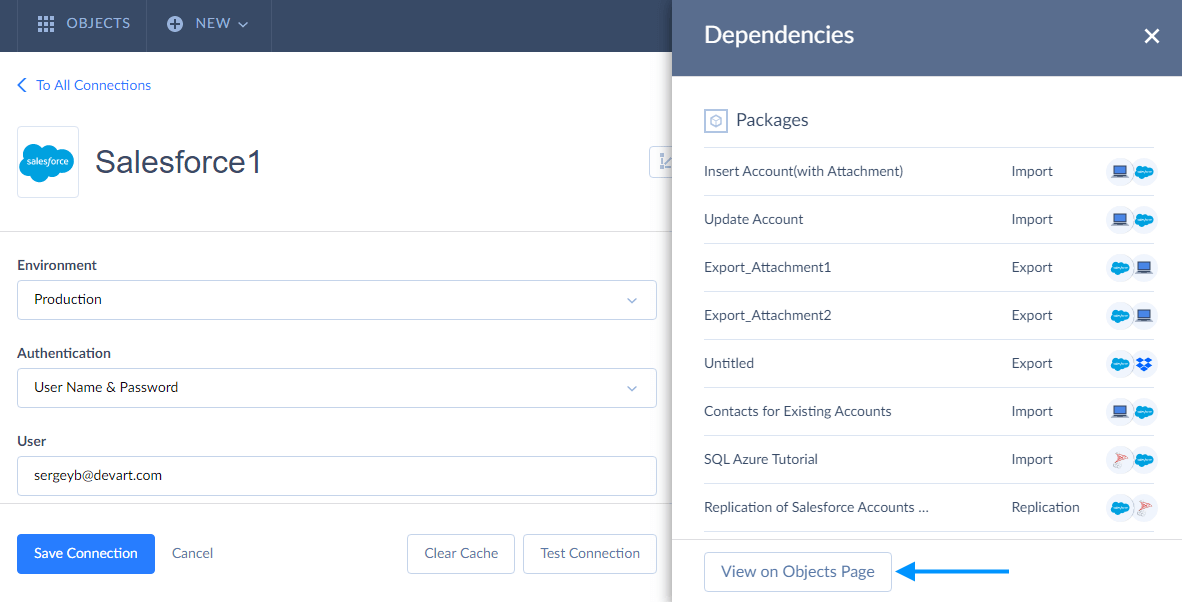 Release of Gallery in Skyvia New
This month we are also delighted to announce the launch of Gallery in Skyvia New.
Gallery helps you to automate most common integration and query tasks using predefined templates in just a few clicks! Useful use cases are just at hand for your convenience! You can enter the Gallery directly from the website. That is one way.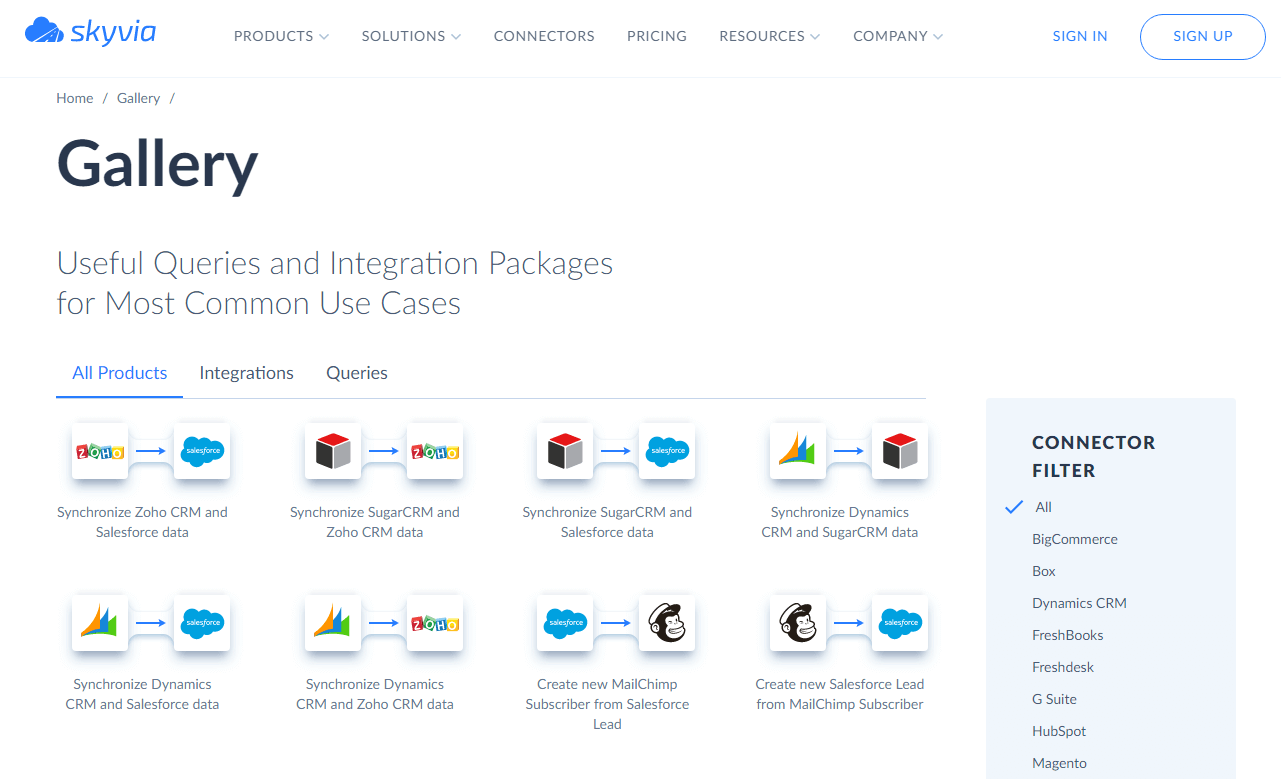 Another way is to sign in to Skyvia and open the new menu. A completely updated interface of the Skyvia service allows accessing the internal Gallery easier now — simply click the +NEW button in the top menu and switch to Gallery.

New Gallery Design
According to our vision, both Galleries should look alike and make your life easier as we put comfort of our clients first! Considering the above-mentioned, we have decided to greatly improve the internal design of Gallery. From now on, all predefined integrations and queries are available for you in one place — on the All tab. Optionally, you can switch to Integrations or Queries tabs to see only integrations or only queries respectfully. You can also select predefined queries directly in the Query interface. This functionality remains the same in Skyvia New. However, the Folders list will no longer be there. Now, you can organize your queries into folders in the same way as your integrations, connections, endpoints and other objects — on the OBJECTS page.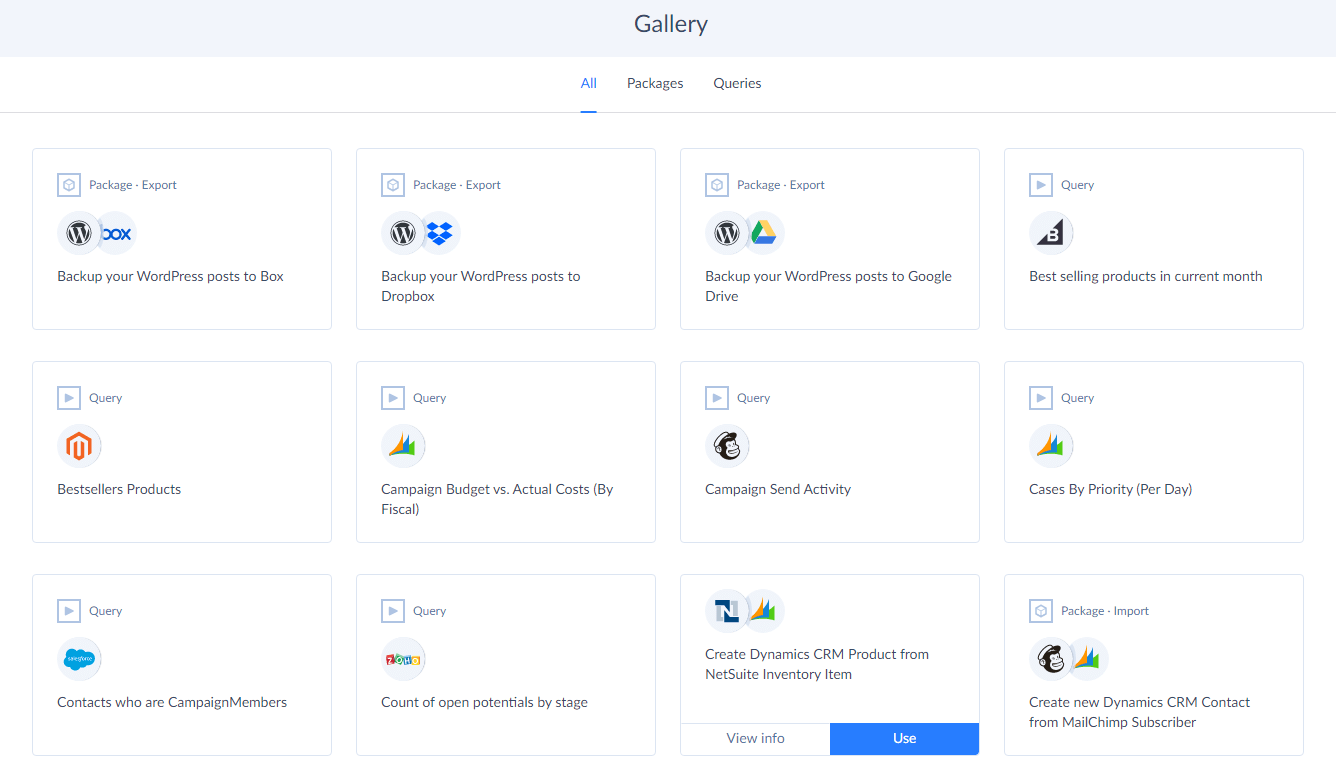 New Filtering Tool
We also draw your attention to the Gallery's new filtering option — Show connectors used by me checkbox. When you select it, you shorten the overall connectors list to the list of connectors used by you only. For example, you select MailChimp from used connectors and easily apply the template Create new MailChimp Subscriber from Salesforce Contact. We hope you enjoy our endeavors!