Zoho Desk
Zoho Desk is a cloud help desk software for managing customer conversations across multiple channels, such as email, chat, phone, social media, developed by ZOHO Corporation.
Data integration: Skyvia supports importing data to and from Zoho Desk, exporting Zoho Desk data to CSV files, replicating Zoho Desk data to relational databases, and synchronizing Zoho Desk data with other cloud apps and relational databases.
Backup: Skyvia Backup does not support Zoho Desk.
Query: Skyvia Query supports Zoho Desk.
Zoho Desk-specific Features and Limitations
In Data Integration product, Zoho Desk connections are supported only for packages, which use the new data integration runtime.

Make sure that the Use new runtime checkbox is selected on the tab bar if you want to use Zoho Desk in your package.

Skyvia Backup does not support Zoho Desk backup.
Zoho Desk Connections
When creating a Zoho Desk connection, simply log in with Zoho Desk. The OAuth authentication token is stored on the Skyvia server. Your Zoho Desk account login and password are not stored on the Skyvia server.
To create a Zoho Desk connection, perform the following steps:
Click +NEW in the top menu.
Open the Select Connector page by clicking Connection in the menu on the left.
In the opened pane, click Zoho Desk.
In the Connection Editor page, specify a connection name that will be used to identify the connection.
In the Data Center list, select your Zoho Desk data center location to connect to: US, Europe, India, China or Australia.

If you have multiple organizations in your Zoho Desk account, enter the numeric id of the organization to connect to in the Organization Id box. See how to find it below.

Click Sign In with Zoho.

In the opened window, enter your Zoho account email and click the Next button.

Enter your Zoho Desk password and click the Sign In button.

Click Accept.
The refresh token is generated. Click the Create Connection button to create the connection.
Getting Organization Id
To find your organization ID in your Zoho Desk account, click Setup near your company profile icon in the top right corner.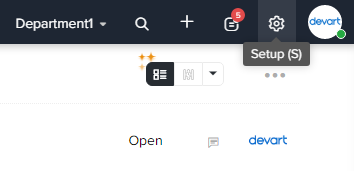 Then, in the setup menu, under Developer Space click API.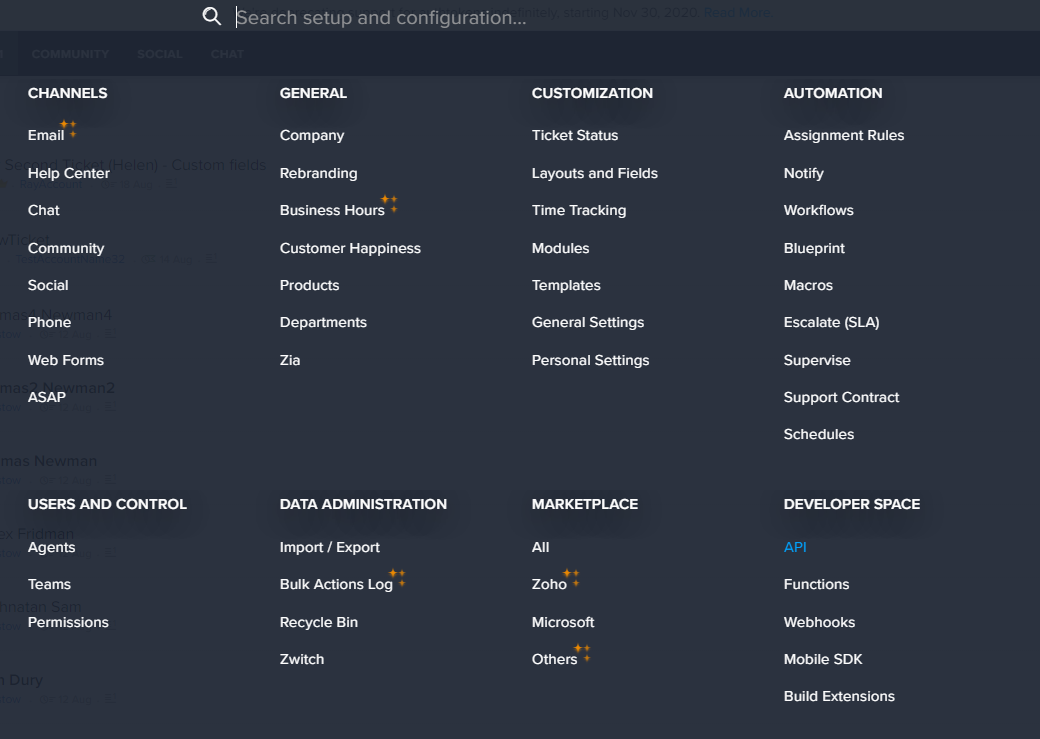 At the bottom of the page, copy the OrgId value.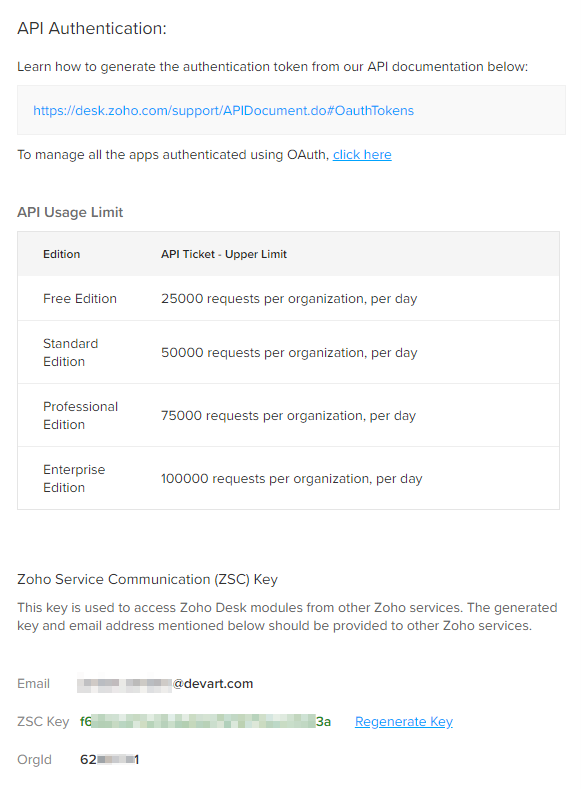 Supported Actions and Actions Specifics
Zoho Desk connector supports the following actions: