September 2020
Skyvia keeps improving usability and look-and-feel of the new interface. Our software development team has added quite a lot of additional useful features to the new interface.
This update makes object list more informative, and allows you to work with Skyvia objects faster and more efficiently. Besides that we have also released — autocleaning of snapshots.
More Informative Object List
The new object list displays more useful information about objects in both grid and list view. Moreover, you can add filters and sort objects by the same parameters as you could in the old interface. Note that this advanced filtering and sorting is available when you display only a specific object kind: only packages or only backups or etc. It is not available when you view all the objects on the All tab.
Packages
The new interface displays more useful information about integration packages on the packages tab. You can see package state of every package - whether it is running or how the last package run finished. You can also easily distinguish packages, scheduled for automatic execution. And finally, packages now display last run time instead of time of the package creation.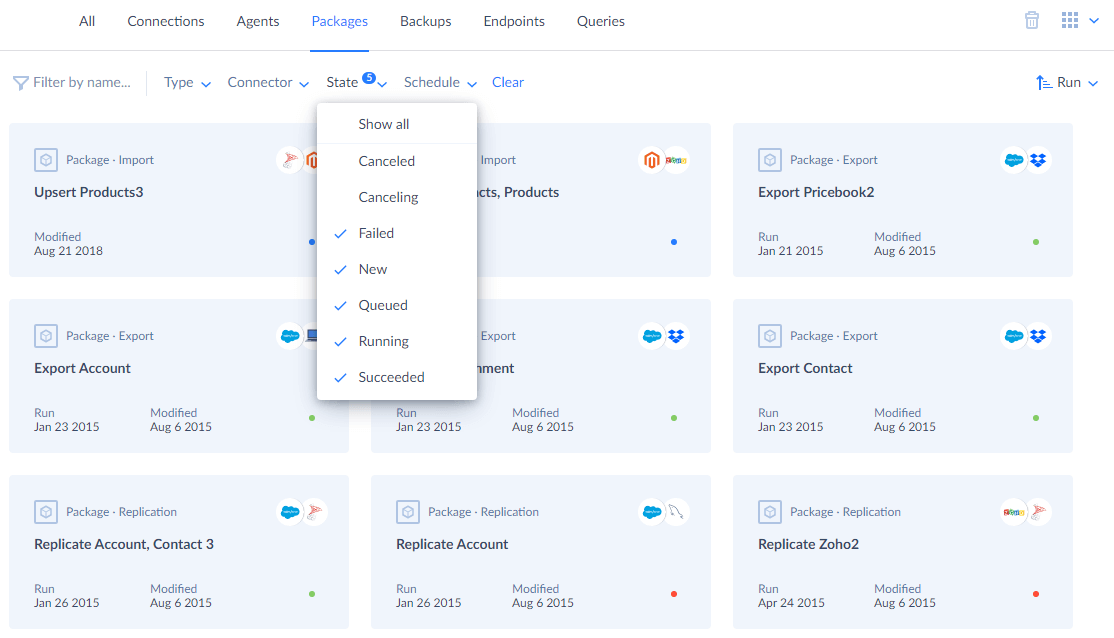 The new interface allows filtering packages by their types (import, export, sync, etc.) and their state (new, succeeded, failed, etc.). And we added the ability to sort package list by the newly added parameters: type, state, and date of last run, as well as package name and date of last modification.
Backups
When viewing a list of backups, you can immediately see how much space each backup consumes, determine which backups take the most space, and clean them if necessary. You can also see when the most recent snapshot was made, and when the next snapshot is scheduled.
In the list view, Skyvia additionally displays the number of totally backed up records and the number of records modified since the previous snapshot.

Backups can be sorted by their size, name, connector and date of the most recent snapshot.
Endpoints
Endpoints now display their token, status, and whether they are public (without authentication/IP restrictions) both in the grid and list views. Note that now you activate/deactivate them via their status icon, not via quick action button.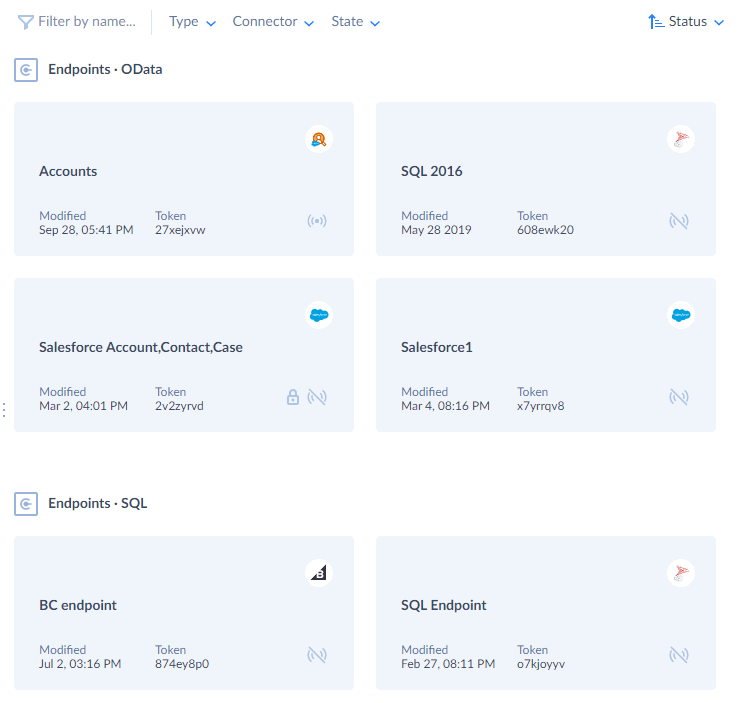 Connections
Connections are now grouped by their type instead of connector: direct or agent.
New Backup Feature — Autocleaning of Snapshots
This is another feature released this month. We expect you to benefit greatly from this update and back up your data safely and easily not worrying about the storage space limit. Meeting customers' needs has always been and will always remain a top priority for Skyvia team. Please note that this feature is available for the pricing plans starting from Backup Standard.
Snapshot Deleting Algorithm
The Backup autoclean functionality allows users to store a certain number of fresh snapshots in accordance with storage limits of their subscription plans. When the autocleaning mode is on, once every 24 hours Skyvia launches automatic deletion of snapshots starting from the oldest ones (i.e. cleaning of snapshots older than 2 weeks). The autocleaning lasts until enough storage space is cleared not to exceed the subscription limit. When deleting snapshots, Skyvia stores at least one successful snapshot of a backup. For example, if your last snapshot failed or was canceled, the previous successful snapshot will be saved.
Backup Autoclean: Where to Find and Activate
The Backup autoclean functionality can be activated on the Subscriptions tab of your Account page. For this, click the Storage details link in the Backup subscription plan and turn on the Autoclean toggle in the opened Storage Manager window.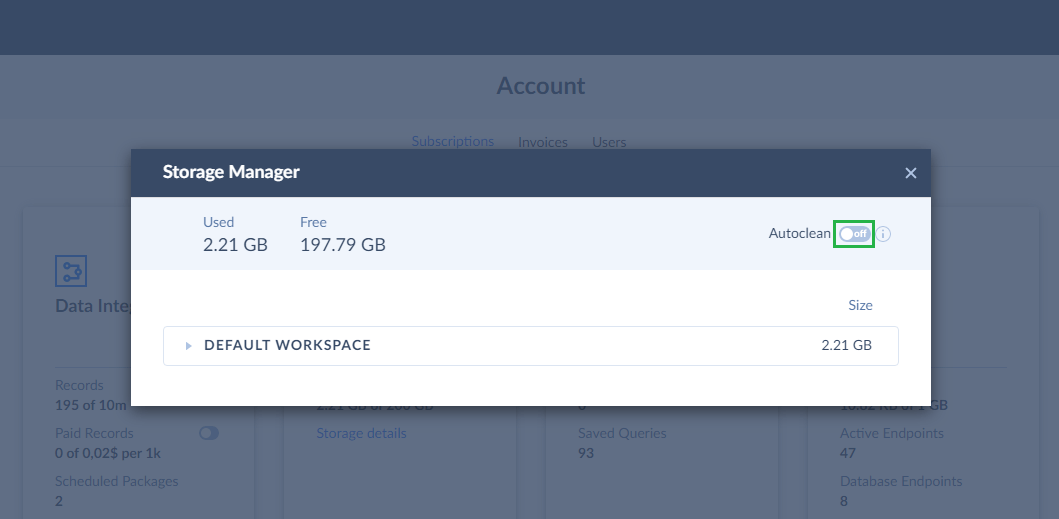 When the autocleaning mode is on for the first time, Skyvia selects all backups from the list automatically (check boxes next to all backups will be selected). If you want to disable autocleaning mode for specific backups, clear check boxes next to them.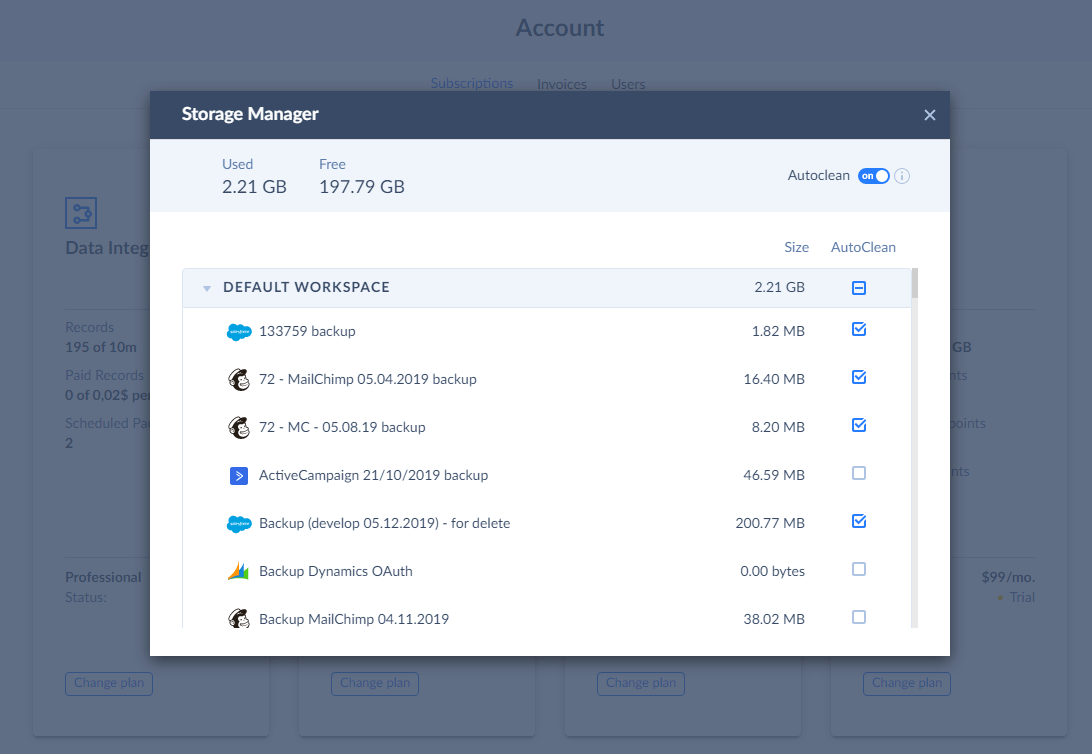 Storage Manager window also shows information on the total size of free and used storage space of the subscription and how much space each backup consumes. More information about the new feature can be found in the Skyvia documentation — Managing Backup Storage Space and Subscription Limits and Plans topics.
New Connectors
Skyvia team has also released three new connectors. You will be able to quickly integrate, backup, manage, and share data of the following new cloud applications:
Asana — a collaborative web tool to help teams organize, track, and manage their work.
Freshsales — a sales CRM from Freshworks with AI-based lead scoring, phone, email, activity capture and more.
DEAR Inventory — an online accounting and inventory management system designed to improve and boost operational efficiency and productivity of business.