February 2015
Cloud Backup
This month, the new Skyvia version goes beyond cloud data integration and offers cloud backup and restore functionality along with many other features.
Cloud Data Backup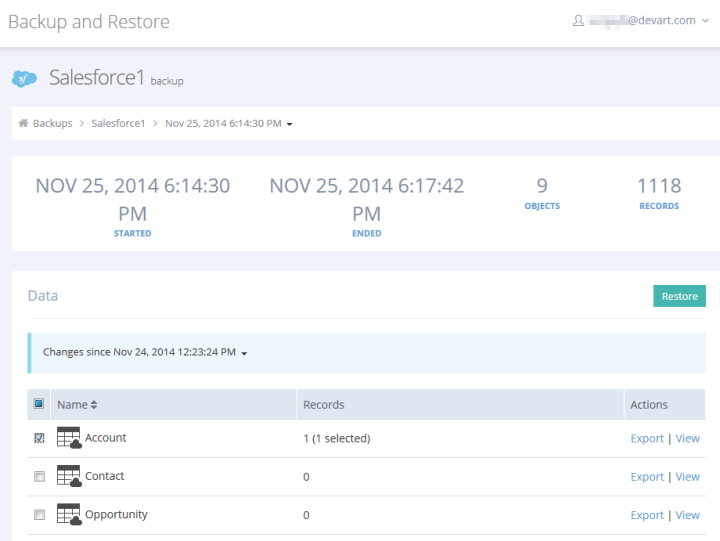 Now Skyvia can prevent cloud data loss caused by user errors, account hijacking, etc. with cloud data backup. It offers both automatic daily backup and anytime manual backup for Salesforce, Dynamics CRM, SugarCRM, and Zoho CRM.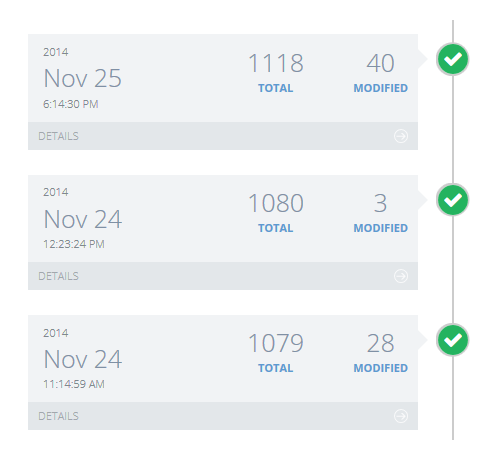 Configuring and performing backup and restore operations is very easy. When restoring your data, you don't need to tinker with CSV files or any other applications - you need just to choose what data to restore and start the restore process. Skyvia does the rest for you. With Skyvia you can restore whole tables, separate records, or even separate fields if you need so. Additionally you can view and undo data changes between backups.
You can always access your backed up data. Skyvia allows viewing them directly in the browser or exporting them to CSV files.
Additionally Skyvia provides powerful monitoring of your backup and restore operations. Skyvia displays all your backup and restore operations with the numbers of totally backed up or restored records and the number of changes since the previous backup. If you need details, you can compare your backups and see which records were changed between them.
Predefined Mapping Templates
With Skyvia 3.0, cloud data migration is as easy as never before! Skyvia 3.0 introduces predefined mapping templates in Import and Synchronization packages for quick migration between different cloud sources.
Now you can quickly add tasks with predefined mapping for importing and synchronizing data between cloud data sources. Instead of configuring tasks manually, you can simply select tasks from the predefined templates. This allows you to configure data import or synchronization between cloud data sources in less than a minute!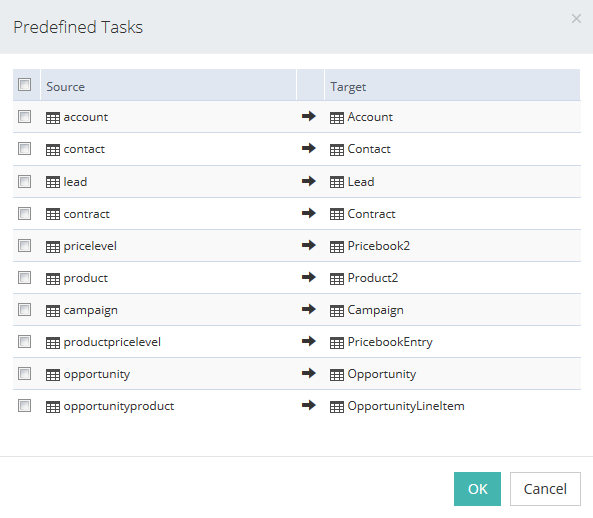 If you need, you can edit predefined tasks after adding them to your package.
Replication Improvements
Replicating cloud CRM data becomes easier with Skyvia 3.0. There is no more need to create replication task for each cloud CRM object to replicate. Now you can just select the necessary objects in the list and start replication if you don't need fine-tuning replication with data filters or replicating only part of object fields.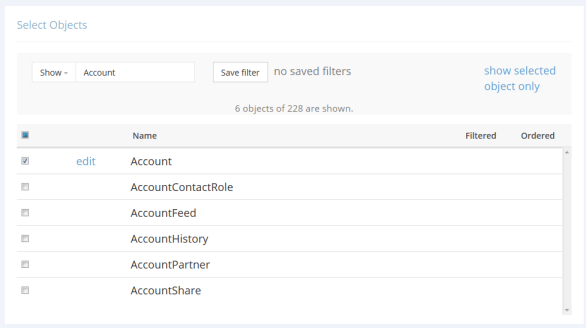 Improvements of Packages and Connections Pages
Now, when there are no packages or connections on the page, it displays links that allow quick creation of a package or connection of the type you need. Adding a new package or connection is also more convenient when there are packages or connections on the page.
Additionally, you can now sort and filter packages or connections on the page, and these settings are preserved when you leave Skyvia.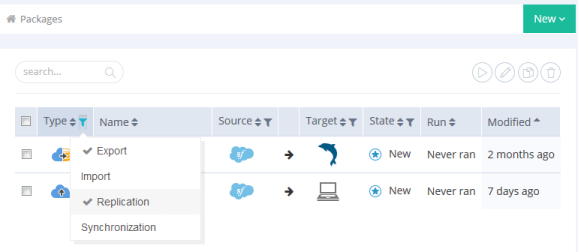 Lookup Mapping Support in Synchronization Packages
Now lookup mapping is not limited to import, you can also use it in synchronization packages.