Freshdesk
Freshdesk is a cloud customer support ticketing system.
Data integration: Skyvia supports importing data to and from Freshdesk, exporting Freshdesk data to CSV files, replicating Freshdesk data to relational databases, and synchronizing Freshdesk data with other cloud apps and relational databases.
Backup: Skyvia Backup supports Freshdesk backup.
Query: Skyvia Query supports Freshdesk.
Freshdesk-Specific Features and Limitations
Skyvia does not support custom Freshdesk fields having double quotation marks in their name.
When querying Freshdesk tickets via API v2, the amount of required Freshdesk API calls doubles if you query ticket description field. It's better not to query it, if you don't need it.
Freshdesk Connections
To connect to FreshBooks, you need to specify the url to connect to, API version to use, and API key.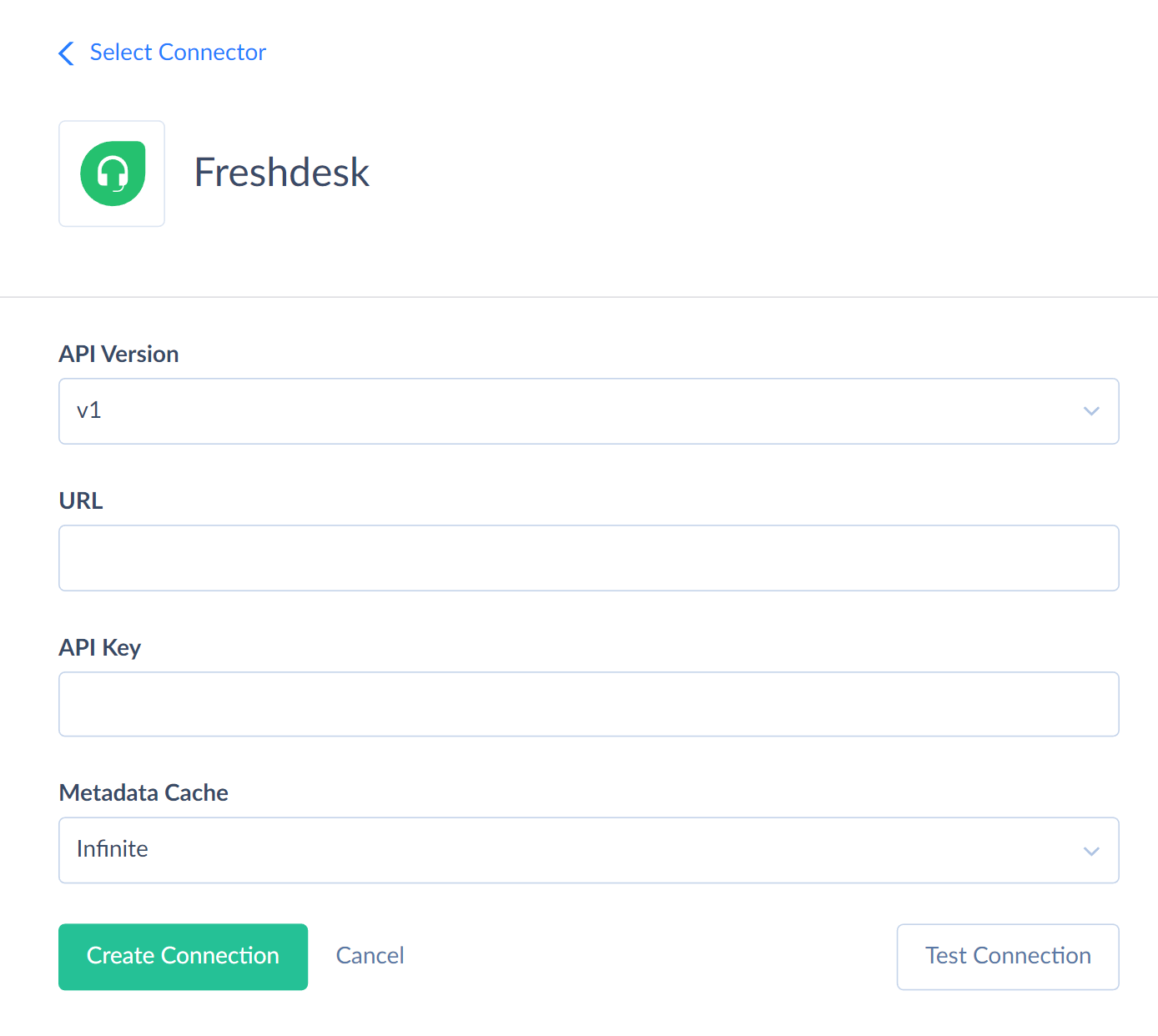 You need to specify the following parameters for Freshdesk connection:
API Version — Freshdesk API to use (v1 or v2). Note that API v2 version provides access to more Freshdesk objects than API v1, and structure of common objects may be different for different API versions.
Url — address of your Freshdesk subdomain.

API Key — an automatically generated key that is used for connecting to Freshdesk. To find your API key, perform the following actions:

Sign in to your Freshdesk Support Portal
Click your profile picture in the top right corner of your portal page.
Go to the Profile settings page.
Your API key will be available below the change password section to the right.

Metadata Cache — this parameter determines for how long the cached metadata for the connection are considered valid. By default, Skyvia caches metadata of available objects in cloud sources. Whenever necessary, you can reset metadata cache for a connection manually in the Connection Editor by clicking the Clear now link. The following values are available for this parameter:

Disabled — metadata cache is not created; metadata are queried automatically whenever required.
One Hour — metadata cache expires one hour after the last refresh.
One Day — metadata cache expires one day after the last refresh.
One Week — metadata cache expires one week after the last refresh.
One Month — metadata cache expires one month after the last refresh.
Infinite — cache never expires/resets automatically. Default value.
Supported Actions and Actions Specifics
Freshdesk connector supports the following actions: