SendGrid
SendGrid is a cloud-based platform intended for delivering transactional and marketing emails.
Data integration: Skyvia supports importing data to and from SendGrid, exporting SendGrid data to CSV files, replicating SendGrid data to relational databases, and synchronizing SendGrid data with other cloud apps and relational databases.
Backup: Skyvia Backup does not support SendGrid.
Query: Skyvia Query supports SendGrid.
SendGrid-Specific Features and Limitations
Skyvia has the following limitations for SendGrid:
In the Data Integration product, SendGrid connections are supported only for packages, which use a new data integration runtime.

Make sure that the Use new runtime checkbox is selected on the tab bar if you want to use SendGrid in your package.

Skyvia supports import operations for SendGrid objects:

INSERT, UPDATE, DELETE: Alerts, API Keys, AuthenticatedDomains, BrandedLinks, Campaign, CancelSheduledSends, ContactLists, CustomFields, Designs, Lists, Segments, Senders, SingleSends, Subusers, Templates, TransactionalTemplateVersions, UnsubscribeGroups, VerifiedSenders.
UPDATE, DELETE: CampaignSchedules, Teammates.
INSERT, DELETE: ContactCustomFields, Contacts, ContactSegments, PendingTeammates, ReverseDNS, Suppressions, Unsubscribes.
DELETE: Blocks, Bounces, ContactListRecipients, InvalidEmails, SpamReports.
INSERT: InboundParseSettings, SubuserMonitorSettings.

Skyvia supports Replication with Incremental Updates selected for SendGrid objects, which have either the UpdatedDate or CreatedDate field. Thus, such objects as Alerts, Blocks, Bounces, Contacts, ContactListRecipients, Designs, DesignsPre-built, InvalidEmails, Senders, Segments,SingleSends, SpamReports, Suppressions, Templates, TransactionalTemplateVersions, Unsubscribes can be replicated with incremental updates.
Skyvia supports Synchronization for such SendGrid objects as Alerts, Designs, Segments, Senders, SingleSends, Templates, TransactionalTemplateVersions.
When you get data from the Contact object without any filters, only 50 records are retrieved. The Contacts object does not have an API endpoint by which all records could be retrieved without specifying any search and segmentation parameters.
The Contact object does not support the UPDATE operation. Instead, when you perform INSERT operation, contacts with email values, already existing in the _Contacts object, are updated; contacts with new email values are created.
The successfully inserted contacts do not appear immediately in the Contacts object, the process takes a few seconds. Likewise happens when you delete contacts.
When you get the data from the CustomFields field of the Contacts object, the data is returned in form of a JSON array with pairs of "custom field name":"custom field value". But when loading data into this field, you need to use a different format - "custom field id":"custom field value". So you cannot import the same data that you exported from this object.
SendGrid Connections
To connect to SendGrid, you need to specify an API Key.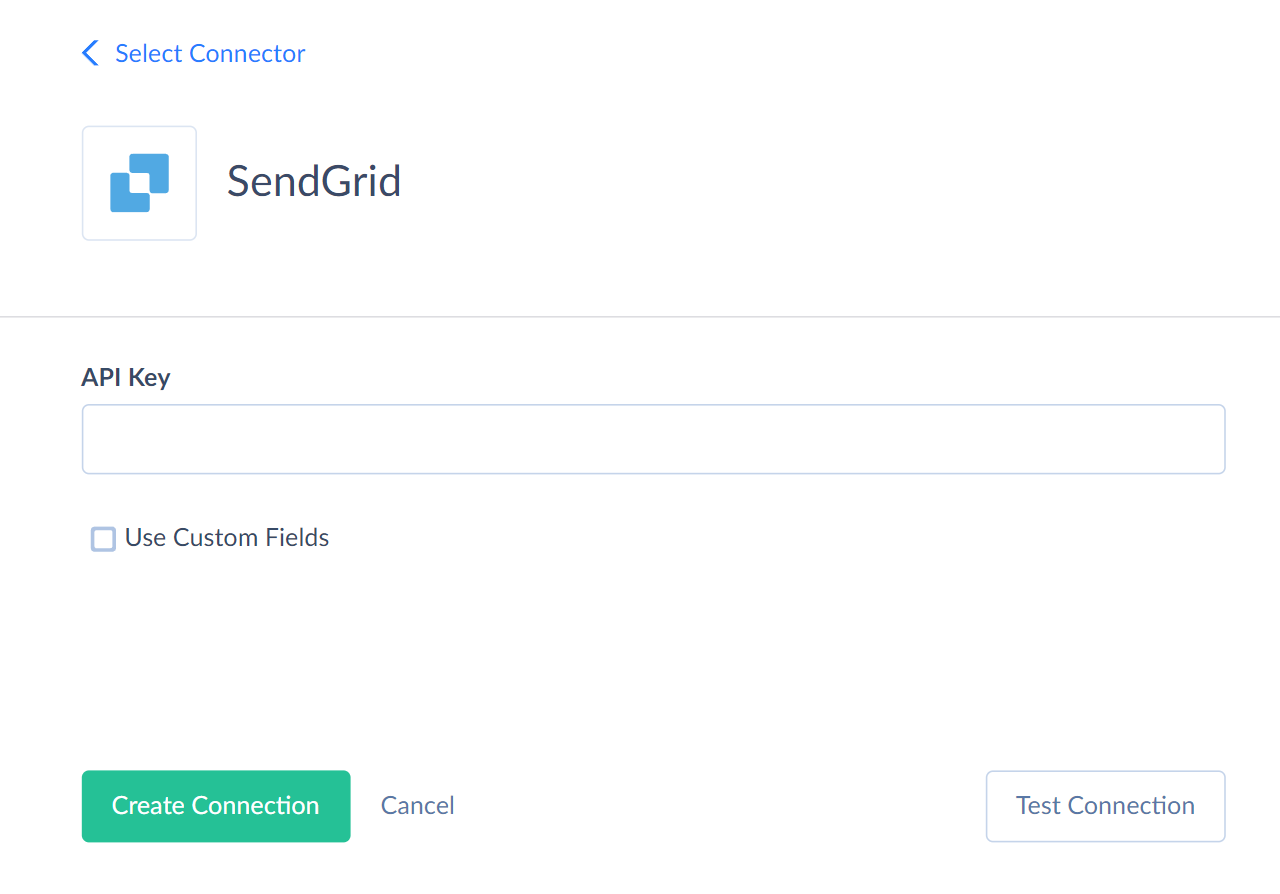 You need to specify the following parameter for SendGrid connection:
API Key — REST API authentication token used for connecting to SendGrid. You can manage an API key in the SendGrid interface. Read more about it here.

To get your API Key, perform the following steps:

Sign in to SendGrid.

Click Settings in the menu on the left.

In the drop-down list, click API Keys and copy your API Key.

Please note if you haven't created an API Key in your SendGrid account yet, you will be asked to create it and select API Key permissions.
Supported Actions and Actions Specifics
SendGrid connector supports the following actions: