January 2019
Welcome to Skyvia New
The new Skyvia is coming! It will have a new, faster internal implementation with more capabilities, and a redesigned user interface, more convenient and intuitive. While it is yet a long way to go, you can immediately get your hand on our newest feature that are ready to use with Skyvia New, available in beta.
Basic Concepts
| Access | Object Visibility | Pricing Aspects |
| --- | --- | --- |
| Skyvia New is available at https://new.skyvia.com/. You can access it with your Skyvia account that you normally use to sign in to our service, as well as with a Google or Salesforce account. No additional registration or actions required. | Note that all supported objects that you create on our current Skyvia service are immediately available on Skyvia New. Currently, these objects include connections, user's queries, and endpoints . However, objects, created on Skyvia New, may use features, not available in the current Skyvia service version, and thus, they are available only on Skyvia New. | Your pricing plans and subscription limits are shared between the current Skyvia service and Skyvia New. The actions that are counted to a pricing plan limit on the current Skyvia service, are counted to the same pricing plan limit in the same way on Skyvia New. |
Redesigned User Interface
A completely redesigned interface allows you to work faster in Skyvia, providing an easier access to frequently used features and being more intuitive in general. It will definitely make you more productive.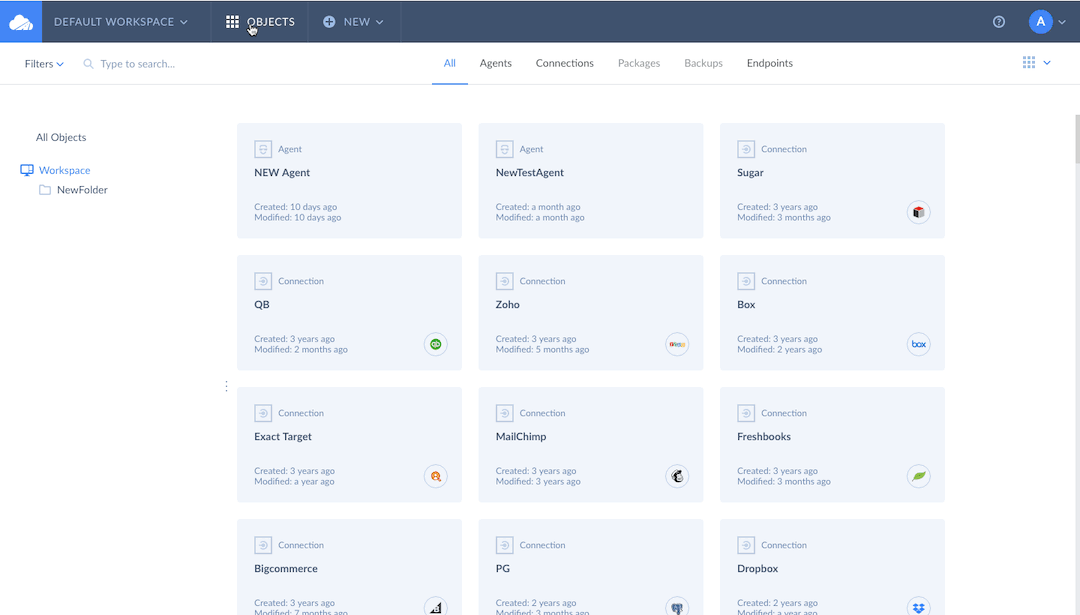 Quick Creation of New Objects
In Skyvia New you can start creating any object from any page. The quick + New menu, which allows creating a new object of any kind, is always at hand. Full-page editors for connections, replacing connection editor dialog boxes, provide a more intuitive and convenient way to create and edit connections.
Organizing Your Objects
| New Object List | Folders to Group Objects | Quick Actions |
| --- | --- | --- |
| Skyvia New displays all the objects — connections, endpoints, etc. — together, allowing you to quickly find the necessary object, view its most important details. You can view objects as you prefer — as a list or as cards, with or without grouping by the object kind. | With folders, you can organize your objects so that all objects, related to a specific task or project, were in the same folder, and objects for other tasks/projects were placed to other folder. Then you may click a folder to see only objects that are in this folder and avoid clutter if you have too many objects. | Test connections, enable or disable endpoints, or open them for editing in a single click, directly from the new object list. Most used actions for the objects can be performed just by pointing an object and clicking the necessary button. |
Connect to On-premise Data Sources via Skyvia Agent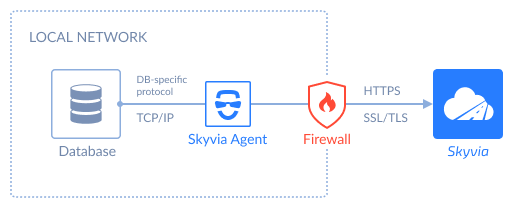 Skyvia New introduces a new way to connect to your on-premise data, hosted on your local computer or in your local network — Skyvia Agent. Skyvia Agent is an application that is installed locally and serves as a secure gateway to load data between on-premise data sources and Skyvia.
Connect to local data sources, not available from the Internet directly.
No need to configure firewall in most cases — Skyvia Agent uses the default HTTP port.
Load data between your data source and Skyvia securely — strong TLS SSL encryption is used.
Run Agent as an application or as a service to always stay connected.
Store your connection parameters on Skyvia or locally, on the Agent side
Just create an Agent, download and install the Agent application and key, start the Agent, and create connections via this Agent on Skyvia.