September 2021
Meet new Skyvia update with a number of major improvements. We are glad to present you the release of our Data Flow solution, Salesforce Reports support in Data Flow, Export, and Import, and ability to map nested object fields for QuickBooks in Import. We have also released three new connectors.
Data Flow Release
This month, our Data Flow solution is out of Beta status. With its release, we have also added the possibility to use Salesforce reports as a source in your data flows. You don't need to build a query or create an SQL SELECT statement if you have a ready Salesforce report that already returns all the necessary data.
After entering the release status, rows processed by data flows will be counted to data integration subscription limit. Since the number of success rows is defined by the user in data flow, this is not the number that will be considered for subscription limit. Instead, the new billed rows number will be available in the Result Details of each data flow run in addition to success and failed rows.
The number of billed rows is counted in the following way: we summarize the number of success rows for all the Target components that load data NOT to cache or log connections.
This change, however, won't take effect immediately. You can use Data Flow for free for another week, and we will start billing the records since October 8th, 8:00 UTC.
Salesforce Reports Support
One of the features our users asked for is support for Salesforce Reports. While Skyvia already provided tools for building queries, that return the same data as reports, so our users could achieve the same results, using a ready Salesforce report is more convenient, as you don't need to configure anything.
Now you can easily select a Salesforce report to run. This feature is available as a Source action in Data Flow, as well as in Import and Export packages. Note that in order to query data from a Salesforce report in Import and Export, the package must use new data integration runtime, and you must use advanced mode in the package tasks.
Nested Objects in QuickBooks
We have supported nested object collections in mapping for QuickBooks. It makes import of invoices to/from QuickBooks easy, and there is no need to fiddle with JSON and other complex things. Now you can simply map fields of the nested objects in the same way as the usual fields.
Configuring Nested Object Mapping
Nested object mapping is only available for the import packages on the new data integration runtime. You need to select the Use new runtime checkbox. After this, in package settings, select the Nested Objects checkbox. After this, you can use nested objects in your mapping.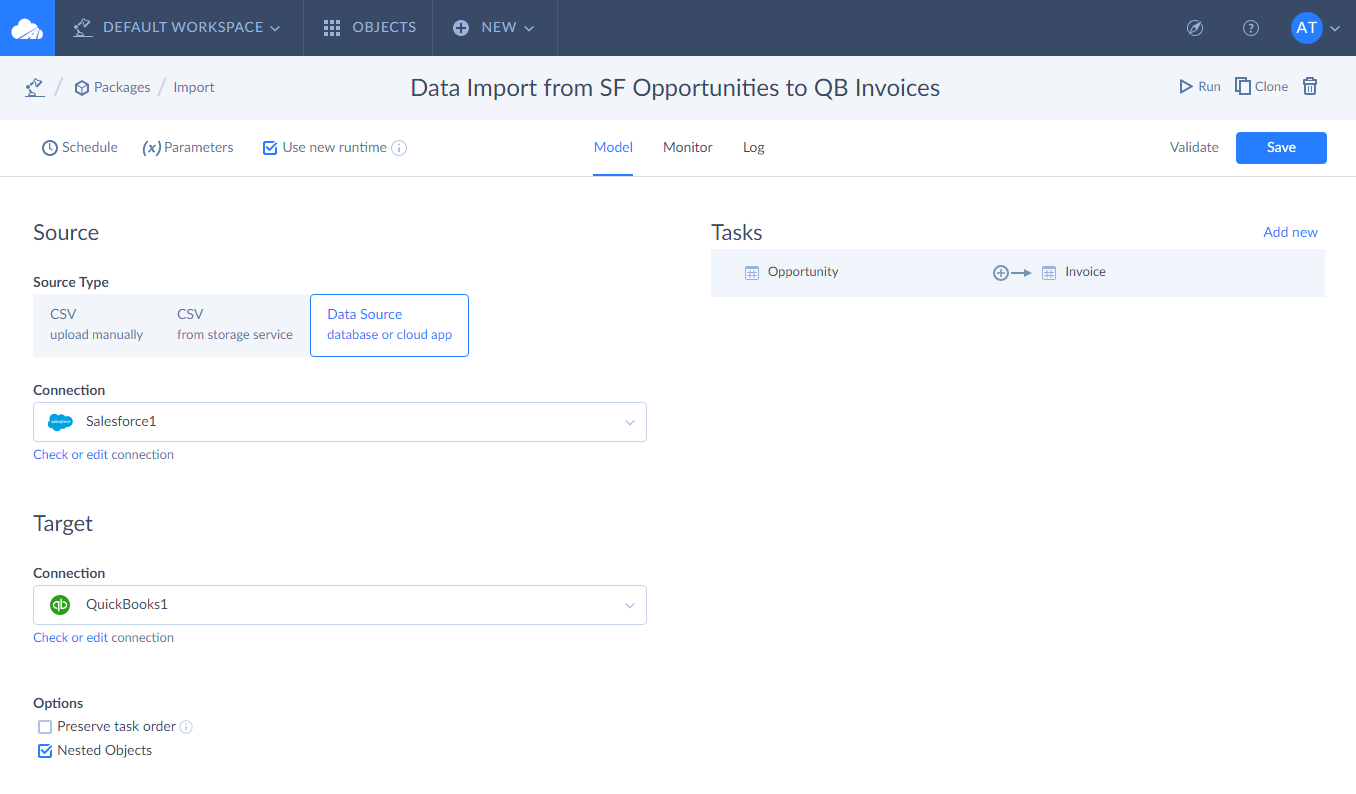 Nested object fields can be mapped in both directions. When nested objects are in a target object, you can map them to child source objects, queried via lookup. When they are in source, you can map them to target child objects when importing data into multiple related objects at once.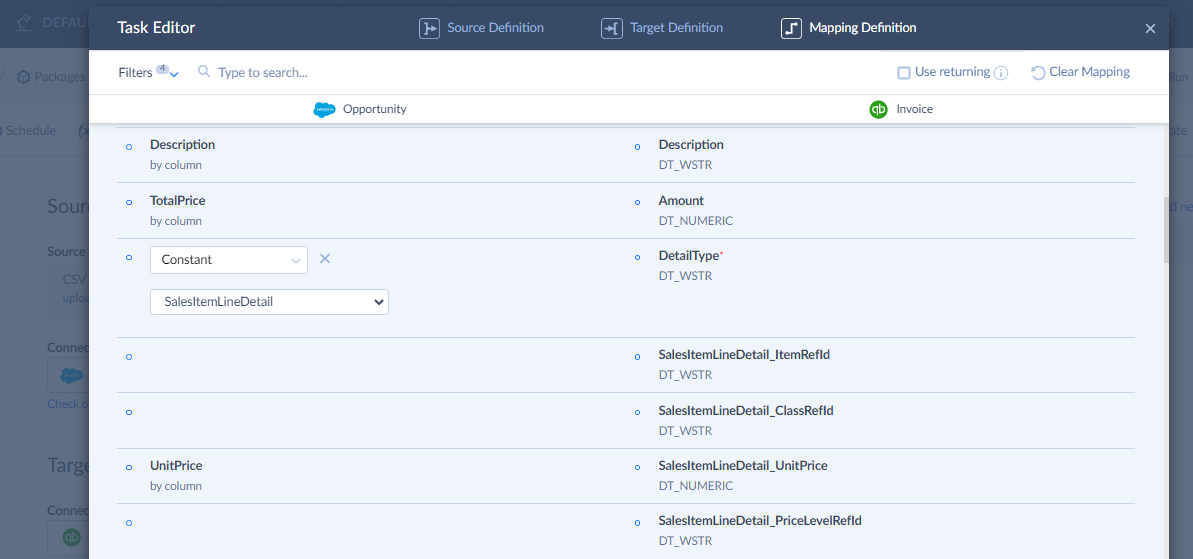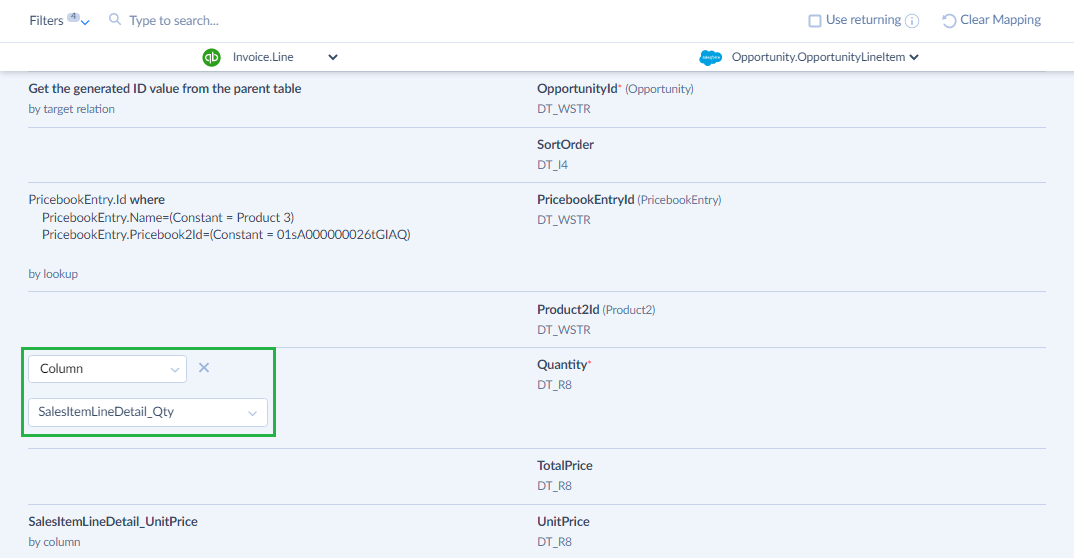 Current Implementation and Future Plans
Currently, this feature is implemented for QuickBooks invoices. QuickBooks is one of the most popular data sources with nested objects, and importing QuickBooks invoices is one of the most popular scenarios. However, in the near future we plan to make this feature available for other QuickBooks objects with nested object collections and other data sources.
We also have plans to support nested objects in other data integration scenarios, in addition to import.
Informative Tutorials
To get started with the new feature faster, you can read our detailed tutorials. We have prepared three tutorials for the most popular use cases — Salesforce — QuickBooks integration:
If you need to integrate your QuickBooks invoices with other data sources, you are welcome to try Skyvia!
New Connectors
Release of new connectors has also been in our roadmap in September. We have managed to support the following connectors:
Starshipit — a provider of integrated and automated shipping and tracking solutions for various online businesses.
Klaviyo — an sms and email marketing automation platform for ecommerce, which helps grow businesses.
Google Sheets — a cloud-based solution, which allows users to edit, organize, analyze different types of information online, and collaborate with each other.