March 2020
New Interface of Skyvia
Today all our users have been transferred to the new Skyvia interface.
From now on, when you log in to https://app.skyvia.com, you automatically access the new app version, which now contains a better, more convenient and intuitive design, new features and greatly improved services. All your data remain securely saved and protected.
For your convenience, the old interface will be available at https://old.skyvia.com within several months. However, no updates of products will be made, no features and connectors will be added.
Recent Changes in Skyvia New
We would like to briefly remind you of recent updates made by Skyvia team to provide each of our users with far better navigation and functionality over the website. Among such updates were:
New Features Added to Skyvia New
Among new features, which have been added to the new interface, were:
Multi-Delete
Dependencies Between Objects
Agent Application
Using the Multi-Delete feature, you can easily delete old connections or agents with all dependent objects you do not want to use anymore. For more information, visit our previous news Multi-Delete Feature
Using the Dependencies feature, you can conveniently track dependencies between objects and easily find out which connections and agents are important for you and have relevant dependent objects, and which are out-of-use and can be deleted from your list not affecting the work of all your integrations. More detailed information can be found in Dependencies Between Objects.
Using the Skyvia Agent, you can connect to your on-premise data, hosted on your local computer or in your local network, with ease and establish secure communication bypassing firewall.
That is a short description of that diversity of features and improvements we have added and made. We would appreciate any your feedback on our new interface.
Connect Extends Beyond OData — New SQL API Endpoints
Today we have released new important feature in our Connect product — SQL endpoints. These endpoints provide web API that allows executing SQL statements against data sources and work with returned data.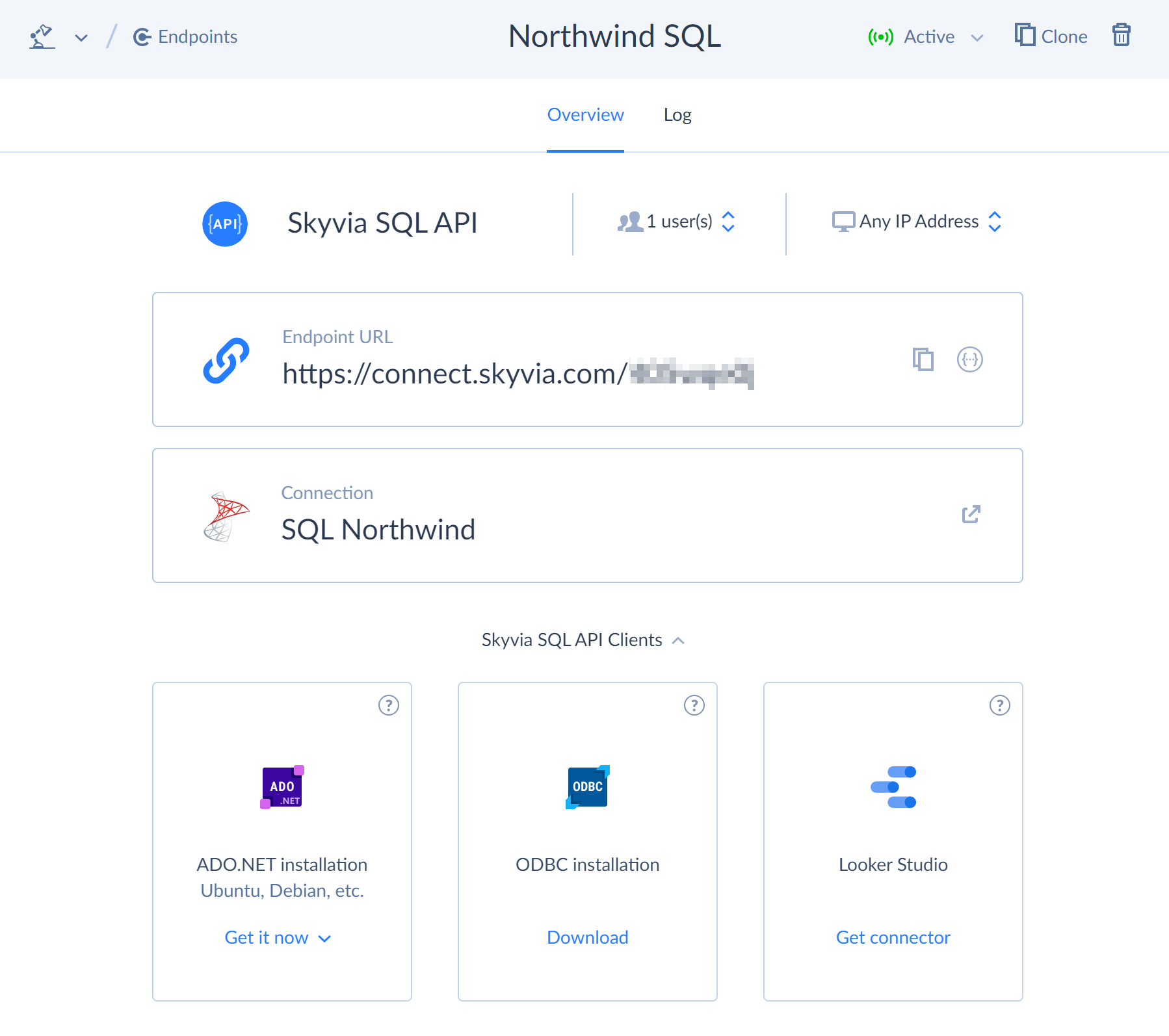 SQL API for Cloud Data
SQL endpoints offer the same advanced security and logging features as OData endpoints. This completely new endpoint kind allows you to publish your cloud data without the need to publish credentials for the corresponding data sources or even provide source API tokens. You may create your own set of users with passwords on the endpoint level. Convenient logs allow you to monitor all the access to your endpoint.
SQL engine for cloud data allows much more flexible data access and data manipulation than native cloud API and allow you work with your cloud data just like with database.
SQL API for Databases
SQL endpoints provide even more features for databases. They can serve as a secure gateway to your database that allows you to fully manage it with SQL over the web. Since they just run the posted SQL against the database engine itself, you can do whatever actions you need against the database over the Internet, that you can do with native database client.
Secure Agent application allows you to easily connect to your on-premise databases. You can create SQL endpoints for database servers, not having an external IP address and sitting behind the firewall and control your database with SQL statements from anywhere. All the traffic between the database, endpoint service, and clients is encrypted with secure SSL/TLS encryption.
Client Software Available
SQL endpoints provide custom API for executing SQL and retrieving data. This API is simple enough to get started in minutes. However, we also provide client libraries that simplify using SQL endpoints even more.
We offer a ready-to-use ODBC driver and ADO.NET provider for SQL endpoints. With them, you can connect existing software, supporting these well-known interfaces, to your SQL endpoints or develop your own solutions. We also plan to create a Google Data Studio connector for SQL endpoints in near future.
Easy Endpoint Creation
Convenient SQL Endpoint Wizard allows creating SQL endpoints in just three simple steps: connect to a data source, configure endpoint user accounts and IP access limitations, and specify the endpoint name. That's all, after less than a couple of minutes you have a ready-to-use endpoint. We take care about hosting, maintenance, and everything else; all you need to do is to specify data source that you need to access via SQL API and optionally configure security settings.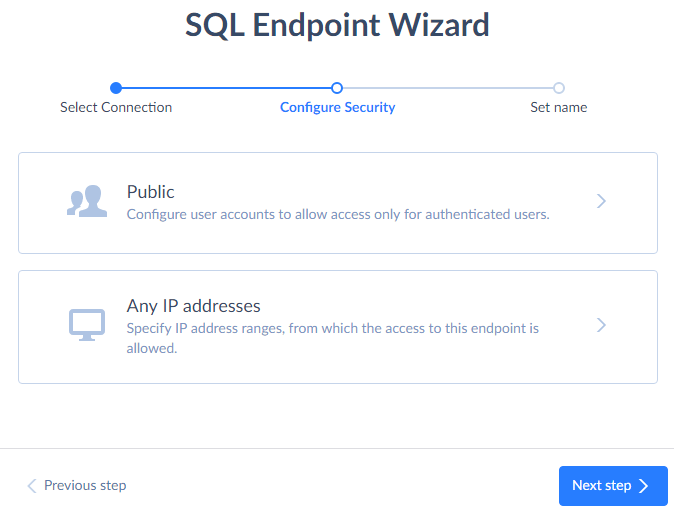 Note that creating endpoints for database data and security features are not available in the free Connect plan, but you can start a two-week trial period for paid Connect plan in your account settings and try all the advanced features.