Pipedrive
Pipedrive is a CRM solution for salespeople in scaling companies built around activity-based selling.
Data integration: Skyvia supports importing data to and from Pipedrive, exporting Pipedrive data to CSV files, replicating Pipedrive data to relational databases, and synchronizing Pipedrive data with other cloud apps and relational databases.
Backup: Skyvia Backup supports Pipedrive backup.
Query: Skyvia Query supports Pipedrive.
Pipedrive-Specific Features and Limitations
Skyvia has the following limitations for Pipedrive:
Skyvia supports custom fields for Pipedrive connector. To be able to work with custom fields, select Use Custom Fields checkbox in the Connection editor window.
Objects, storing Pipedrive metadata, such as ActivityFields, DealFields, NoteFields, OrganizationFields, PersonFields, and ProductFields, are read-only in Skyvia.
The following Pipedrive objects are not supported: DealTimeline, Recents, SearchResults, Files, Roles.
Skyvia cannot restore records, having ExpectedSum value set, to the Goals object.
Skyvia Backup cannot undo adding a product price, when restoring a modified Product record.
Skyvia cannot update records in the Goals and Users objects.
Skyvia cannot delete records from the PermissionSetsAssignments object.
Pipedrive Connections
To connect to Pipedrive, you need to specify the API Token.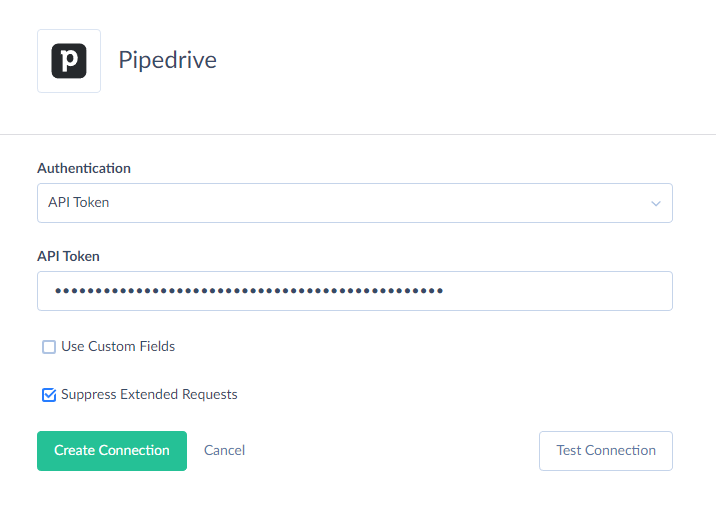 You need to specify the following parameters for Pipedrive connection:
Supported Actions and Actions Specifics
Pipedrive connector supports the following actions: