Pipedrive
Pipedrive is a CRM solution for salespeople in scaling companies built around activity-based selling.
Data integration: Skyvia supports importing data to and from Pipedrive, exporting Pipedrive data to CSV files, replicating Pipedrive data to relational databases, and synchronizing Pipedrive data with other cloud apps and relational databases.
Backup: Skyvia Backup supports Pipedrive backup.
Query: Skyvia Query supports Pipedrive.
Pipedrive-Specific Features and Limitations
Skyvia has the following limitations for Pipedrive:
Skyvia supports custom fields for Pipedrive connector. To be able to work with custom fields, select Use Custom Fields checkbox in the Connection editor window.
Objects, storing Pipedrive metadata, such as ActivityFields, DealFields, NoteFields, OrganizationFields, PersonFields, and ProductFields, are read-only in Skyvia.
The following Pipedrive objects are not supported: DealTimeline, Recents, SearchResults, Files, Roles.
Skyvia cannot restore records, having ExpectedSum value set, to the Goals object.
Skyvia Backup cannot undo adding a product price, when restoring a modified Product record.
Skyvia cannot update records in the Goals and Users objects.
Skyvia cannot delete records from the PermissionSetsAssignments object.
Pipedrive Connections
To connect to Pipedrive, you need to specify the API Token.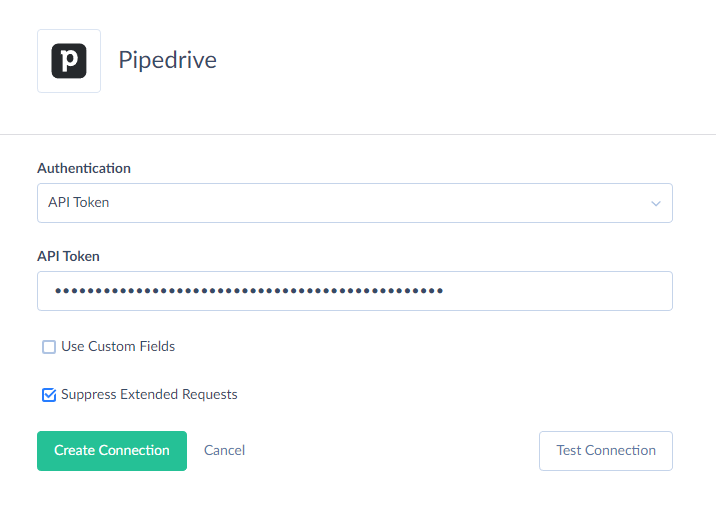 You need to specify the following parameters for Pipedrive connection:
API Token — an automatically generated API key used for connecting to Pipedrive. Your API Key can be found under Settings -> Personal -> Other -> API. Check the following topic in the Pipedrive documentation for the details: https://support.pipedrive.com/hc/en-us/articles/207344545-How-to-find-your-personal-API-key.
Use Custom Fields — an optional parameter, which, when selected, allows working with Pipedrive custom fields.
Optionally, you can select the Suppress Extended Requests checkbox to reduce the number of API calls. However, beforehand read more about this option below.
Suppressing Extended Requests
For some objects, Pipedrive API returns only part of the fields when querying multiple records. In order to query values of additional fields, Skyvia performs additional extended requests. Such API requests can be performed for each record of such object. However, this can decrease performance and significantly increase the number of API calls used.
To reduce the number of API calls, you can select the Suppress Extended Requests checkbox. However, please note that some of the fields in such objects will not be available in Skyvia (will return empty values) even if they have values in Pipedrive because its API does not return them without extended requests.
Supported Actions and Actions Specifics
Pipedrive connector supports the following actions: