Affinity
Affinity is an online customer relationship management tool focused on contacts and profile creation automation, easy dealing, and pipeline management.
Data integration: Skyvia supports importing data to and from Affinity, exporting Affinity data to CSV files, and replicating Affinity data to relational databases.
Backup: Skyvia Backup does not support Affinity.
Query: Skyvia Query supports Affinity.
Establishing Connection
To establish a connection to Affinity in Skyvia you have to enter the API key. Follow the instructions to obtain the API Key.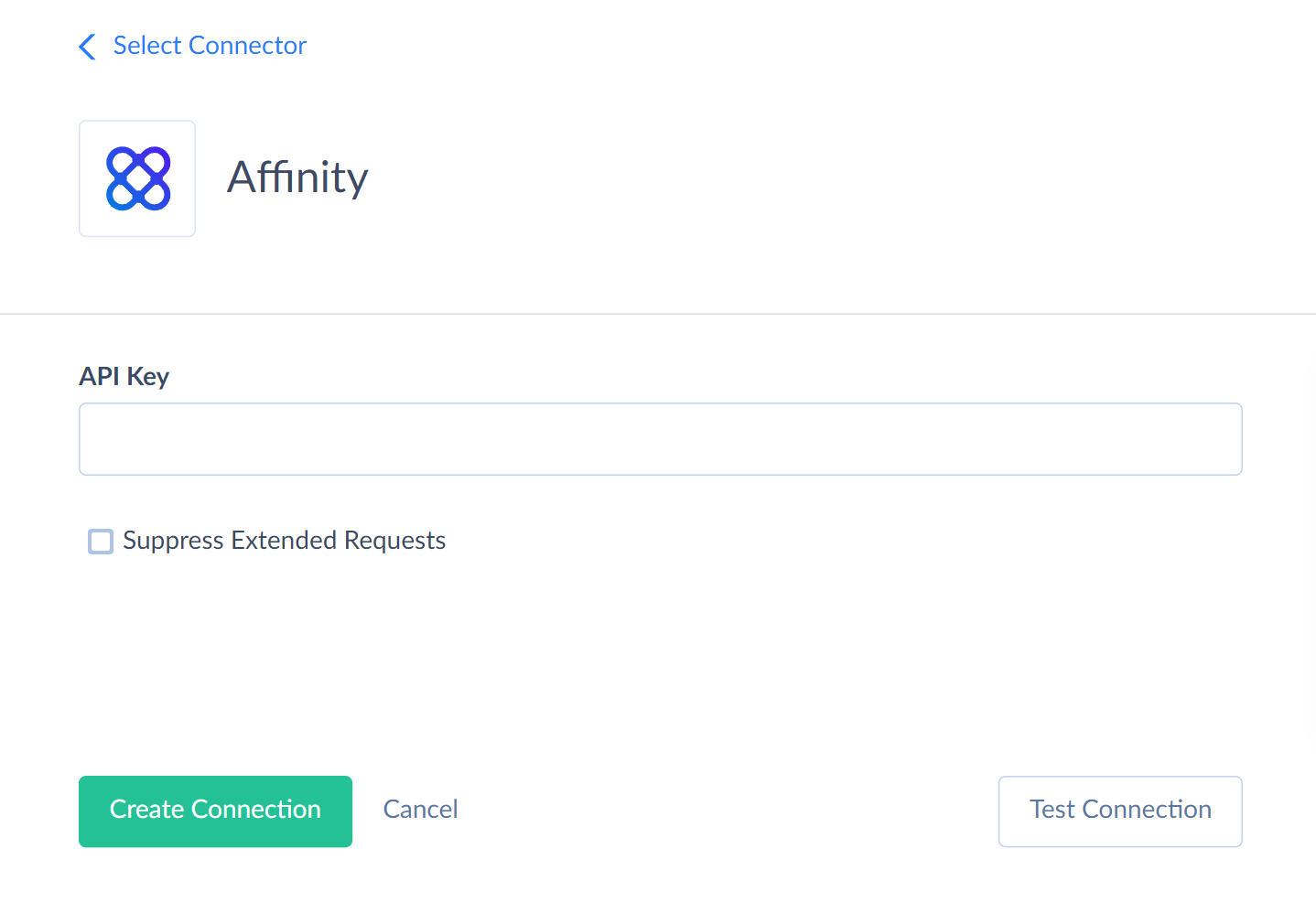 Connector Specifics
Skyvia has the following limitations for Affinity:
Object Peculiarities
The RelationshipStrengths table is read-only. To retrieve data from this table, you must use filter by the ExternalId.
When importing to the Reminders table, you have to map one of the following fields in addition to the required fields: Person_Id, Organization_Id or Opportunity_Id.
Incremental Replication and Synchronization
Replication with Incremental Updates is supported for the following objects: EntityFiles, ListEntries, Notes, Reminders. These tables have only the CreatedDate field and do not have the UpdatedDate. It means that the Incremental Replication will consider only the new records.
Skyvia does not support Synchronization for Affinity.
DML Operations Support
Skyvia supports DML operations for such Affinity objects:
| Operation | Object |
| --- | --- |
| INSERT, UPDATE, DELETE | ListEntryFieldValues, Notes, Opportunities, OpportunityFieldValues, OrganizationFieldValues, Organizations, PersonFieldValues, Persons, Reminders, WebhookSubscriptions |
| INSERT, DELETE | Fields, ListEntries |
| INSERT | Tasks |
Supported Actions
Skyvia supports all the common actions for Affinity.