January 2022
New Connectors
In January, the release of Freshservice and QuickBooks Time took place. Find out more about new cloud apps below.
Freshservice — a cloud-based IT Service Management solution. Freshservice helps IT organizations streamline their service delivery processes with a strong focus on user experience and employee happiness.
QuickBooks Time — a web-based and mobile time tracking and employee scheduling app. It helps to simplify your business and focus on results.
Control Flow Released, Execute Integration Component Added
Moreover, this month our Control Flow solution is out of Beta status. With its release, we have also added the new Execute Integration component that allows running other data integration packages. Now you are able to orchestrate not only data flows specifically created within the control flow but also run all kinds of data integration packages, including other control flows.
Control Flow Billing
Since Control Flow enters the release status, rows processed by the control flow will be counted to subscription limits. In the control flow run details, you can see the number of billed records in addition to the number of success and failed records. This number shows the rows loaded by the data flows that are created in the control flow via the Data Flow components. To be more precise, it is the sum of all success rows for all the Target components in these data flows that use any connections other than cache or log.
This number does not include records processed by other integration packages that are executed via the Execute integration components. You can find the number of records they processed in the logs of the respective packages. They are counted to subscription limits as well.
Execute Integration Component
The main feature of the control flow release is the new Execute Integration component. It allows running existing data integration packages — data flows, import, export, synchronization, and replication packages, and even other control flows.
Now you can truly orchestrate all your integrations — run packages one after another or depending on specific conditions, etc. For example, you can run your replication to a data warehouse and then immediately run a data flow building a report on the updated data and send it to Google Sheets. And with the ability to run other control flows, you can create truly powerful and modular integrations, which you can easily design and test in parts. Note that it is currently not possible to run a control flow recursively from within itself or via intermediate control flows.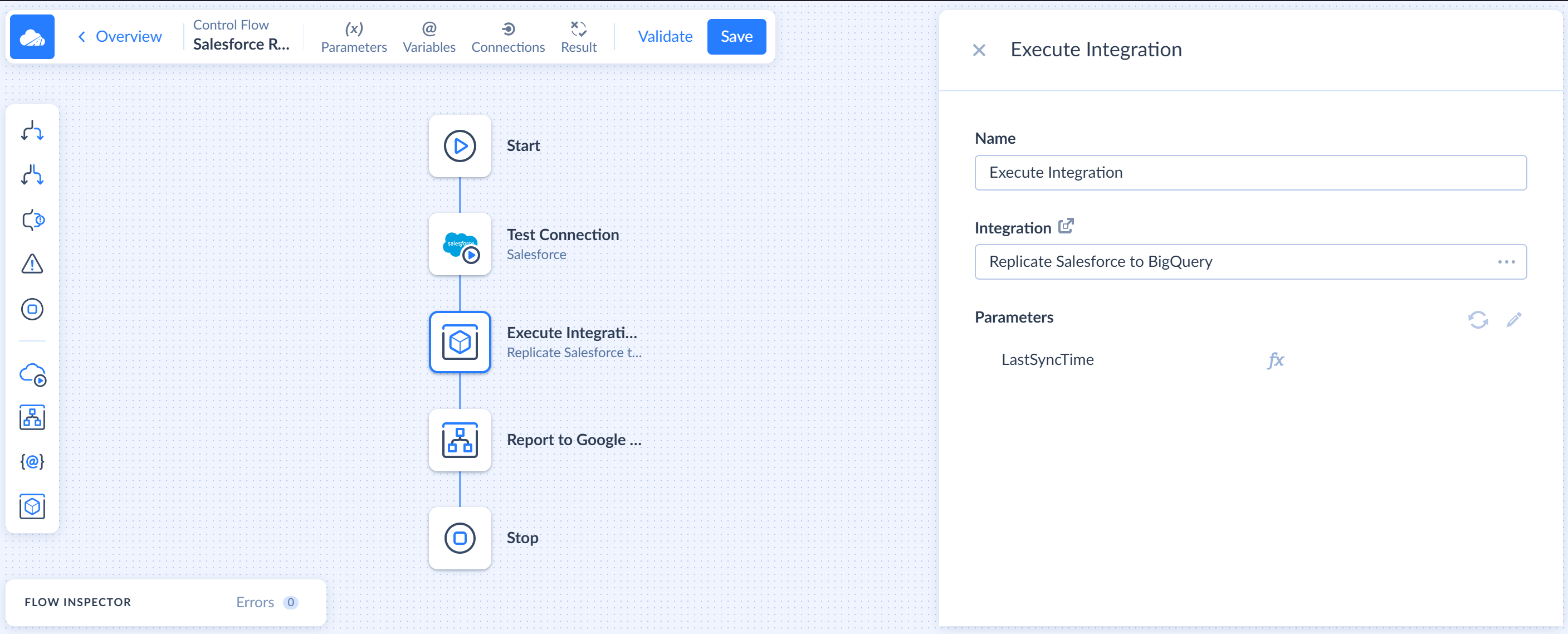 Two-Factor Authentication
This month, we have also implemented a two-factor authentication for accounts. If you want to keep your Skyvia account safe, adding two-factor authentication (2FA) is a step you should take. With 2FA, you add an extra layer of security to your account, which means you use something apart from your username and password to log in and that is a single-use code generated by an authenticator app on your phone.
Downloading an Authenticator App
Before enabling a two-factor authentication in your Skyvia account, download and install on your phone one of the authenticator apps mentioned further. Skyvia allows authentication through several dedicated apps – Google Authenticator, Microsoft Authenticator, and Twilio Authy.
Enabling Two-Factor Authentication
It doesn't take long to set up 2FA in your account. Simply go to your Profile, switch to the Two-Factor Authentication tab and click the corresponding button under the Disabled status.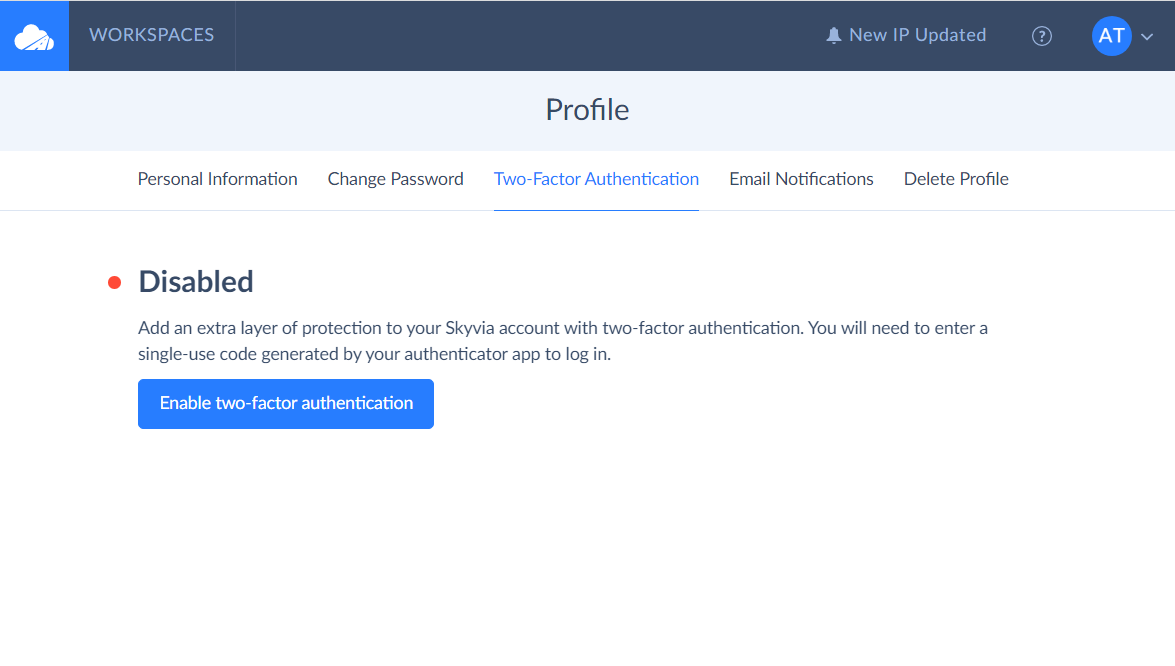 To successfully complete the two-factor authentication procedure, in the next windows, scan the QR code with the authenticator app, enter a 6-digit verification code to the Skyvia setup window, confirm the connection between your Skyvia account and authy app and download recovery codes provided by Skyvia. That is it, you've done it.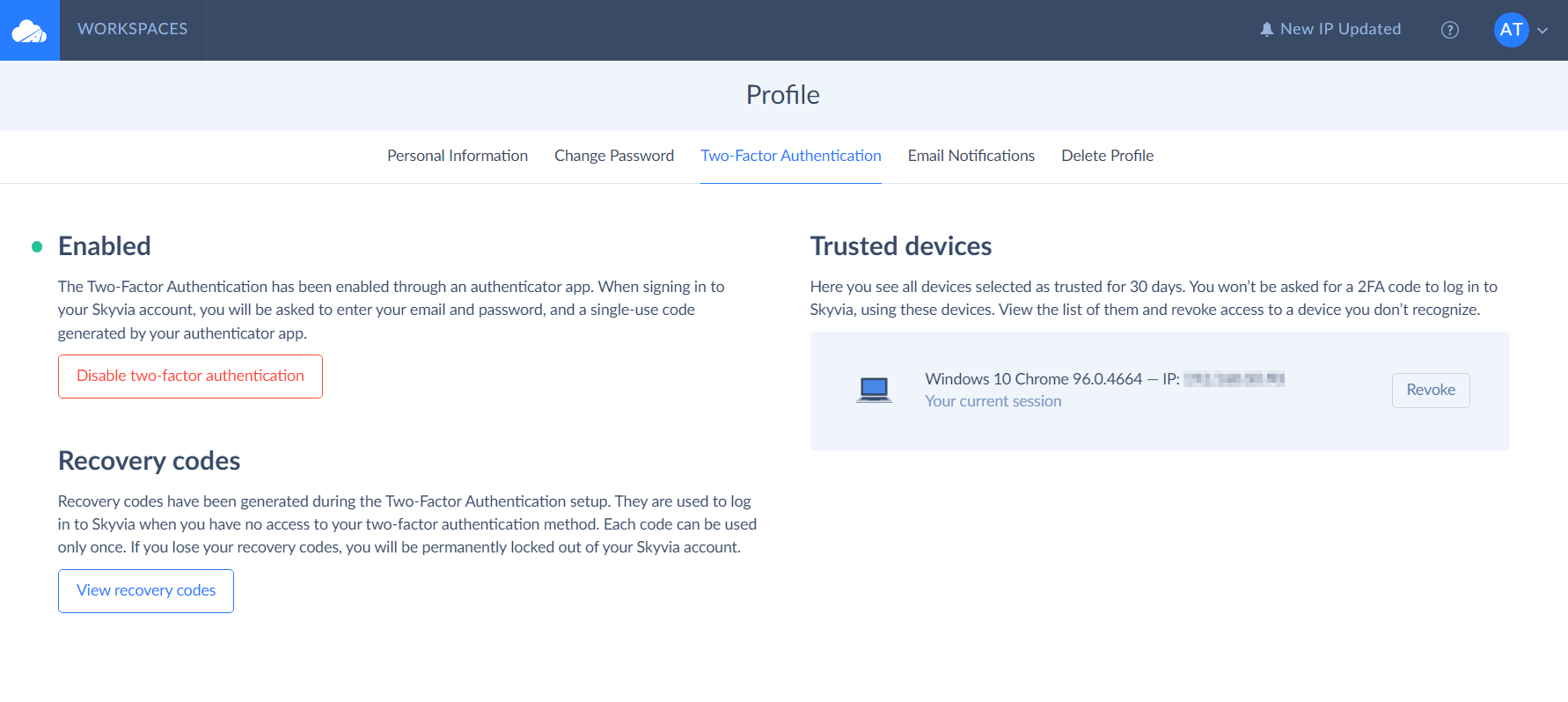 Recovery Codes
Skyvia generates 12 unique recovery codes during your 2FA setup, which are specifically tied to your Skyvia account. You can use them to verify your identity when you have no access to your two-factor authentication method, for example, if you have changed your app or lost your mobile device. Every recovery code can be used only once. You can always generate a new set of recovery codes if you have used many of existing ones and their total number has significantly decreased.
Please remember that recovery codes protect you from being locked out of your Skyvia account when something happens with your 2FA device.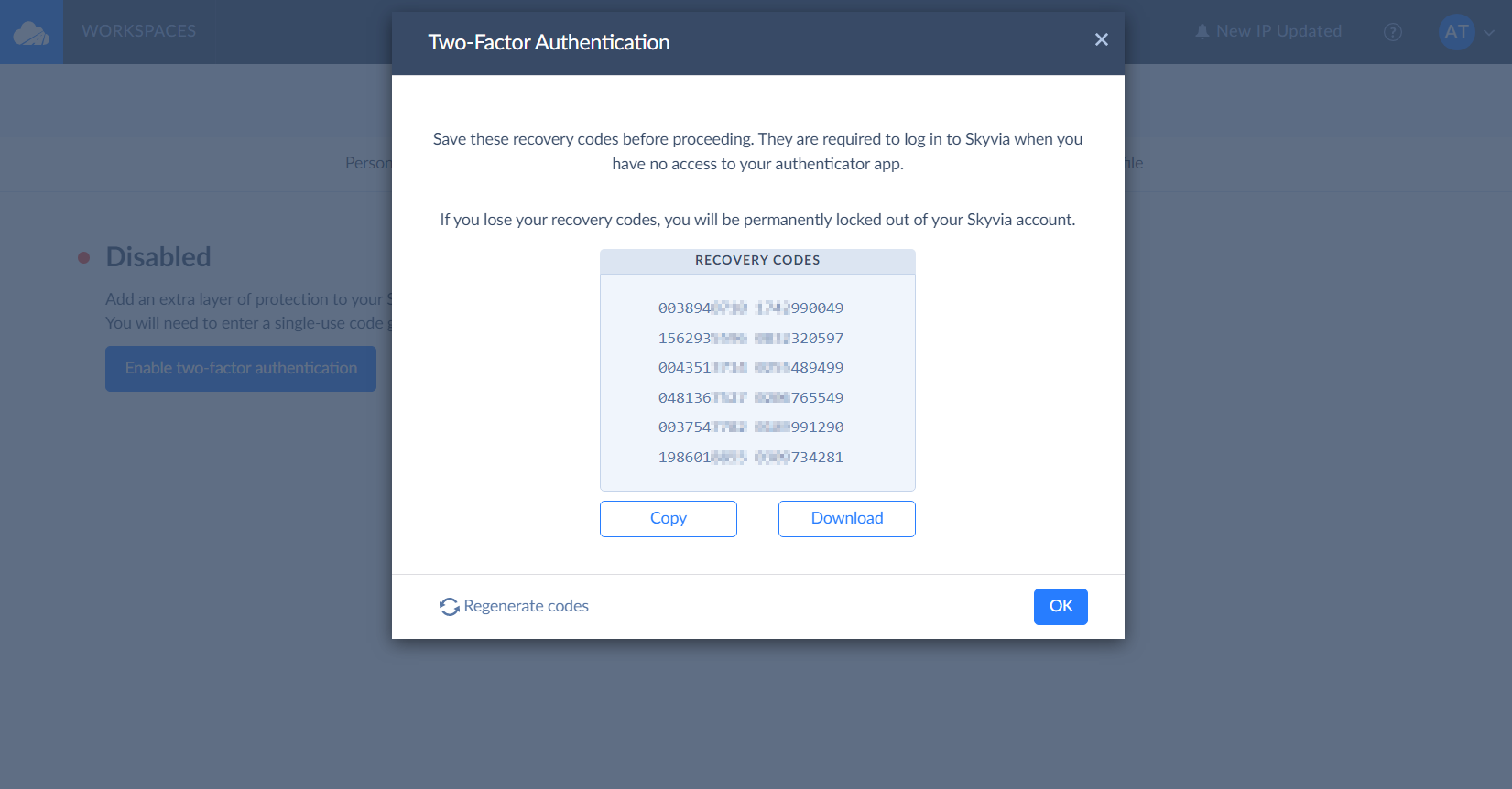 Trusted Devices
You have a possibility to add your secured work or personal laptop as a trusted device, which means you temporarily disable 2FA authentication for it in Skyvia.
How can you do it? Everything is simple. Next time when signing in to Skyvia, select a corresponding checkbox in the Two-Factor Authentication window. This allows the device to log in without two-factor authentication for 30 days.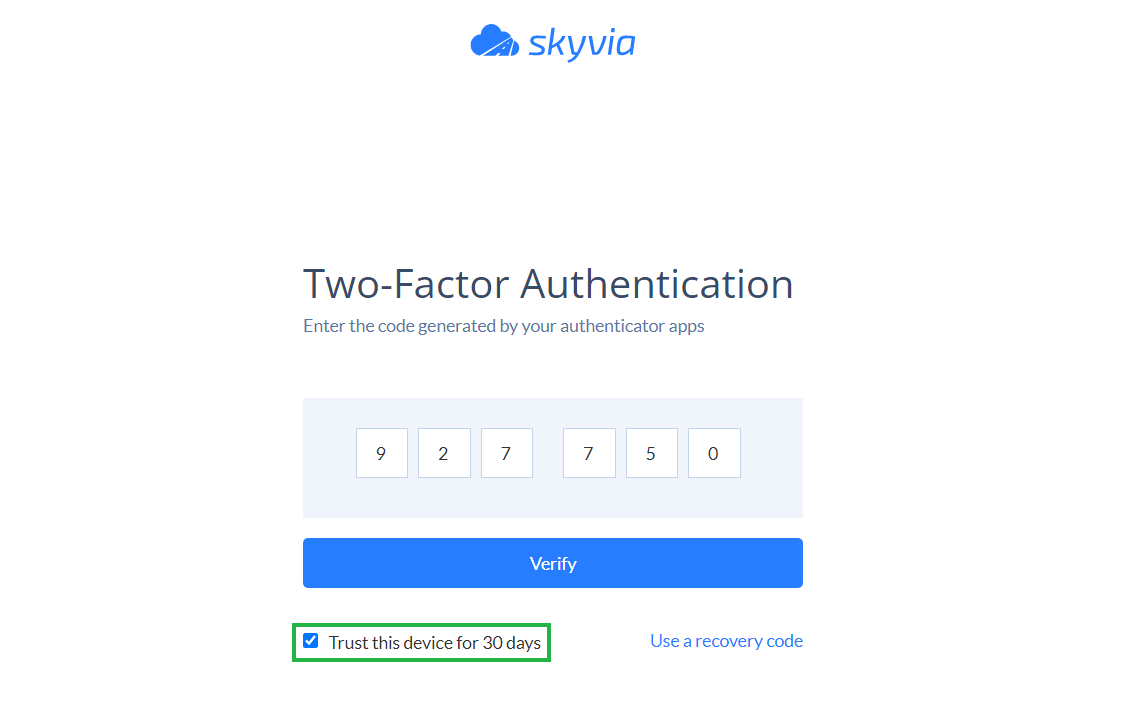 We hope you'll enjoy improvements we've made to Skyvia. You can read more on how to set up 2FA here.