February 2016
Improved Online SQL Query Tool and Pricing Introduction
This month, we are glad to present the new version of Skyvia — our online service for cloud data integration, backup, and management.
The new Skyvia version offers completely redesigned and greatly improved Query — our online SQL editor for cloud and relational data. The SQL editor now is accompanied with visual query builder for designing SQL queries without typing code. Skyvia Query also now has tools to visualize data as charts and provides Query Gallery - a collection of predefined queries for common use cases.
Visual Query Builder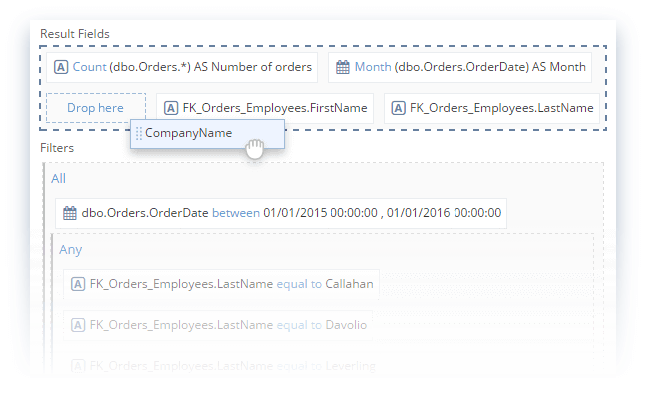 Skyvia Query does not require you to know SQL any more. In Skyvia 4.0 you can design your queries visually without typing code in a new Query Builder tool. It has intuitive interface and is not SQL-centric. Query Builder can help even an unexperienced user to quickly query data from cloud and relational sources. Whenever necessary you can switch from a Query Builder to the generated SQL statement and tweak it in the SQL editor.
Data Visualization and Export
In Skyvia 4.0 we have introduced tools that allow visualizing the retrieved data as charts. You can display your data as different chart types, create charts with several series, and clearly see the true meaning of your data.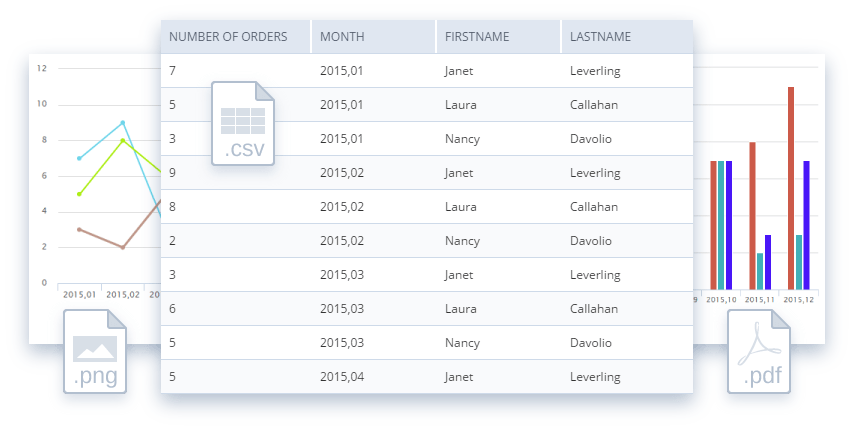 The returned data can now be exported not only to CSV format but also to PDF. Charts can also be exported as PNG images or PDF files.
Query Gallery
Skyvia 4.0 now allows storing composed queries in the Query Gallery. If you have created a good query and want to reuse it in future, you can save it to the Query Gallery and then load and reuse it whenever necessary. It can help you to automate your routine data-related tasks.
Query gallery already stores a number of predefined queries for different data sources for the most common use cases. Take a look at the predefined queries, and some of them will be useful for you or help you to create your own queries. Read more about the Query Gallery here.
Query Pricing
In the version 4.0 we introduce pricing for Skyvia Query. There is a free plan limited to 5 queries per day. The unlimited plan costs $19.00/month. You can see more details on our Pricing page.