June 2021
Email Notifications Improved — Get Notified about Reaching Subscription Limits Threshold
We are glad to announce new features, related to our email notifications. From now on, they can be configured on per-account basis instead of per user. Besides, you can now get notifications when you approach your subscription limits for data integration records or backup storage space.
Usage Notifications
Now you can receive notifications not only about errors in your packages and backups, but also when you getting closer to your subscription limits for data integration records or backup storage space. You can select thresholds, for which a notification email will be sent.

Notification Configuration
Since one user can participate in many accounts, we have moved notification settings to account settings. Now you can configure error and usage notification settings per account.
However, the user still can modify settings in their profile - unsubscribe from notifications completely or specify a email address for them, different than the address of their profile. These settings will be applied for all accounts, where this user is account admin or workspace admin, and notifications are sent to the admin email.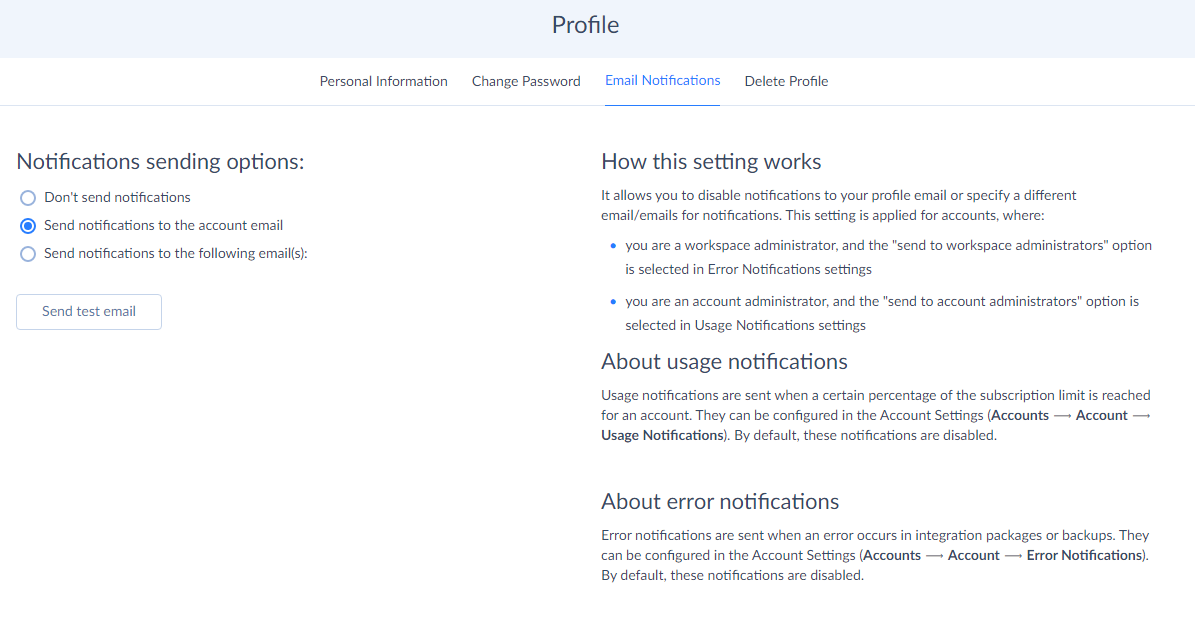 Testing Notification Settings
Additionally, you can now send a test notification email if you set custom email address. This allows you to make sure the notification emails can be delivered to your email address and that they won't go into spam.
You can also reset the error notification limits in Error Notification settings. This resets both one email per hour limit, so you can immediately get a new notification email, and one email per day limit for all the packages.
New Connectors
We have released four new connectors in Skyvia this month. Among them are Twitter Ads, Freshworks CRM, RepairShopr and Square. Note that they are supported only in the new data integration runtime. So far, Skyvia does not support backup for these connectors.
Twitter Ads — a service for gathering direct responses, increasing website traffic, downloading content or any app, or simply increasing views and followers on Twitter.
Freshworks CRM — a cloud-based CRM (customer relationship management) solution that includes sales force automation, marketing automation, chat and telephony all in one solution.
RepairShopr — an all-in-one computer repair shop software, CRM and invoice system.
Square — a cloud-based POS system that allows processing payment transactions, updates and securely storing sales history in the cloud.