Jira
Jira is an issue tracking solution with bug tracking, issue tracking, and project management functions.
Data integration: Skyvia supports importing data to and from Jira, exporting Jira data to CSV files, replicating Jira data to relational databases, and synchronizing Jira data with other cloud apps and relational databases.
Backup: Skyvia Backup supports Jira backup.
Query: Skyvia Query supports Jira.
Jira-Specific Features and Limitations
Skyvia can connect to both Jira Cloud and Jira Server. For Jira Cloud, it supports both Jira API Ver2 and Ver3 and both OAuth and Basic authentication. You can select the corresponding parameters to use when creating or editing a connection.
Skyvia has the following limitations for Jira:
Synchronization and Replication with Incremental Updates enabled are not supported for objects without CreateDate and UpdatedDate fields. Both fields must be present for synchronization. Thus, only the Issues object supports synchronization. Replication with incremental updates requires at least one of the fields.

Skyvia does not support custom fields in the default Jira connector. However, if you need to work with custom fields in Jira, you may contact our support team.

Some of the Jira objects can be accessed only via their parent objects. For example, to query ProjectComponents, ProjectStatuses, ProjectProperties and ProjectVersions objects, Jira API requires the id of the corresponding project. To get IssueComments, RemoteIssueLinks, IssueTransitions, IssueVotes or IssueWorklogs records, Jira API requires the id of the corresponding issue.

Skyvia does not require this id of the parent object from user. If you don't specify the ids of the parent objects (for example, in a filter), Skyvia queries all the parent object records first, takes their ids, and then queries child object records for each parent object record. This allows querying child objects without knowing their parents, but this method takes much time and consumes many API calls. It uses at least one API call for every parent object record (for example, Issue), even if this record does not have actually any queried child records (for example, IssueComments). This means that even if there is only a small number of IssueComments in your Jira, querying them still may take much time and API calls if there are a lot of issues.

Thus, it is strongly recommended to use filters on the parent object fields when querying data from such child objects. This limits the number of parent object records, for which child object data must be queried.

Some Jira objects, for example, ApplicationRoles, Dashboards, AuditRecords and others don't support OAuth authentication. Such objects can be accessed only via connections using Basic authentication. If you try to access them via a connection using OAuth authentication, you will get an error "OAuth 2.0 is not enabled for this method."
Jira Connections
To connect to Jira, first you need to select the Environment to connect to — Cloud or Server and enter the Site.
Jira Server
To connect to Jira Server, you need to specify your user email and password.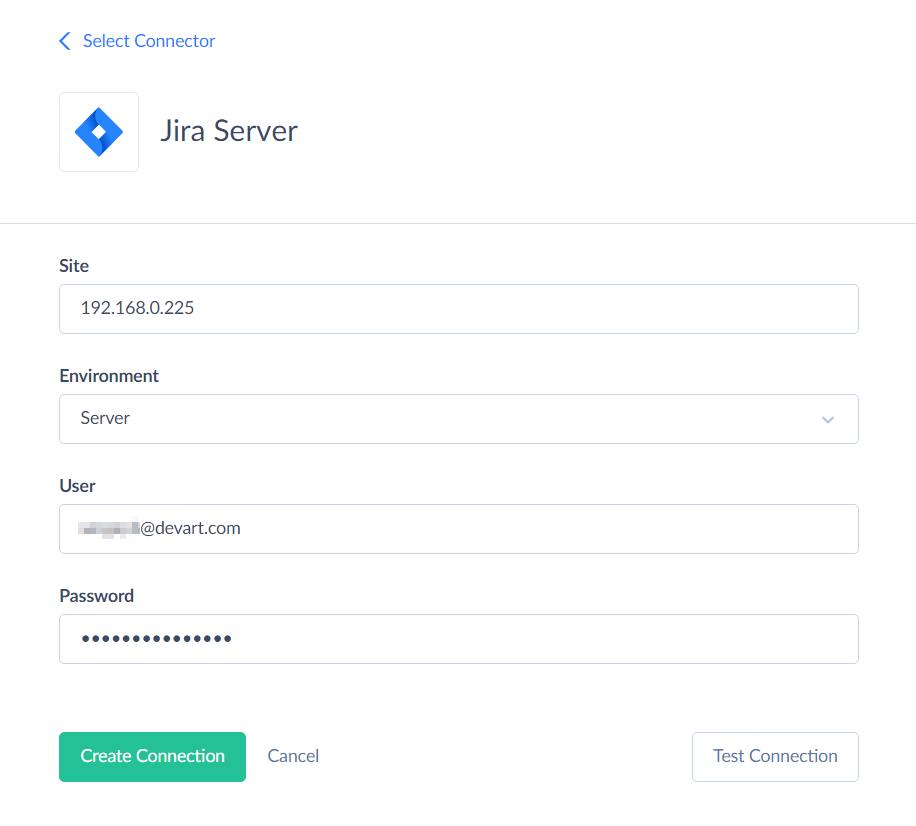 Jira Cloud Using Basic Authentication
To connect to Jira Cloud, you need to select the API Version to use and Basic in the Authentication list.
If you use Basic authentication, enter your user email to the User box and your API token (NOT your password) to the Password box. You can manage your Atlassian API tokens at https://id.atlassian.com/manage/api-tokens
Read more about Atlassian API tokens in the Atlassian documentation.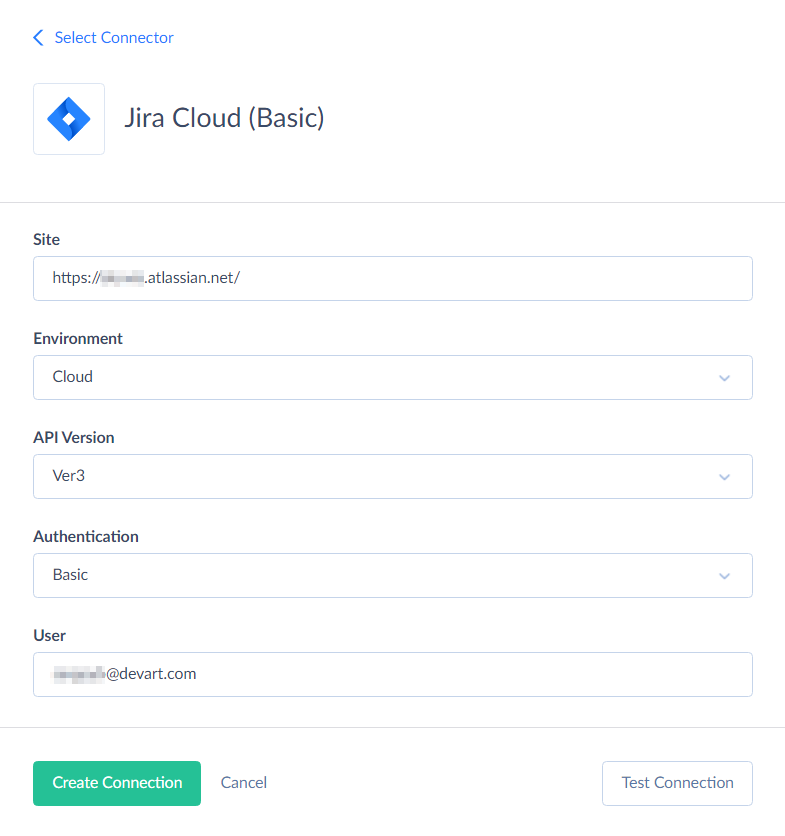 Jira Cloud Using OAuth Authentication
To connect to Jira using OAuth, select the API Version to use and then select OAuth 2.0 in the Authentication list.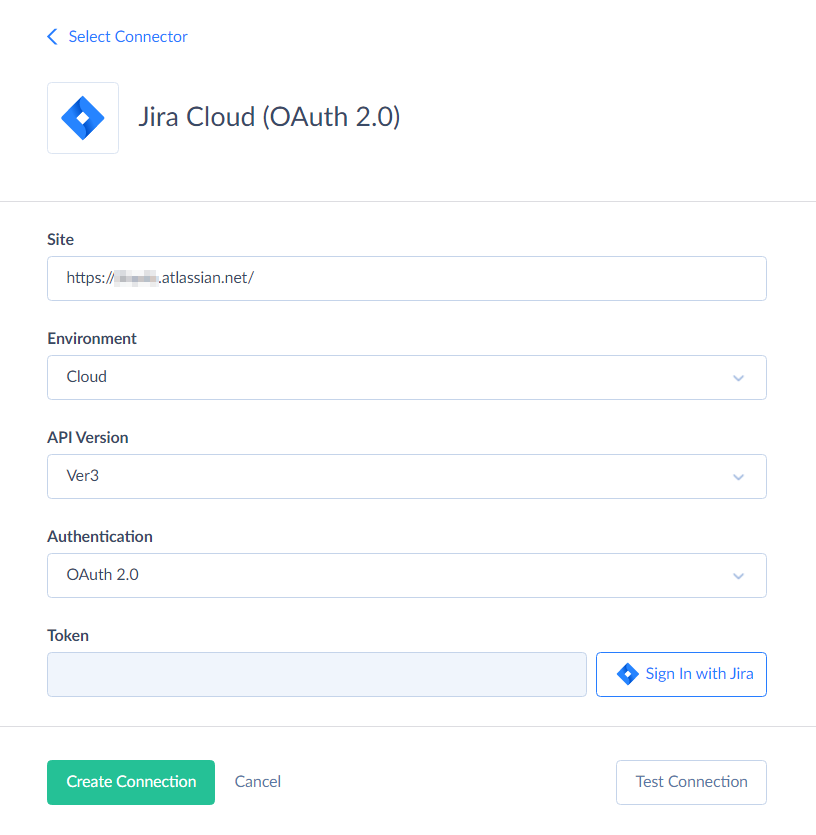 Then click Sign In with Jira and sign in with your Atlassian credentials.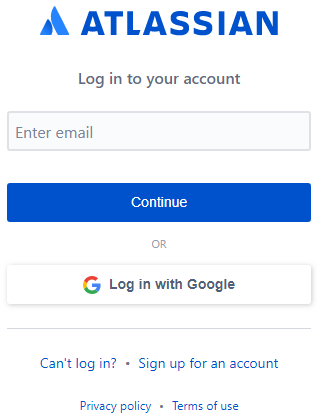 After this, click Accept. The Token will be filled automatically. Enter the connection name and click Create Connection to create the connection.
Supported Actions and Actions Specifics
Jira connector supports the following actions: